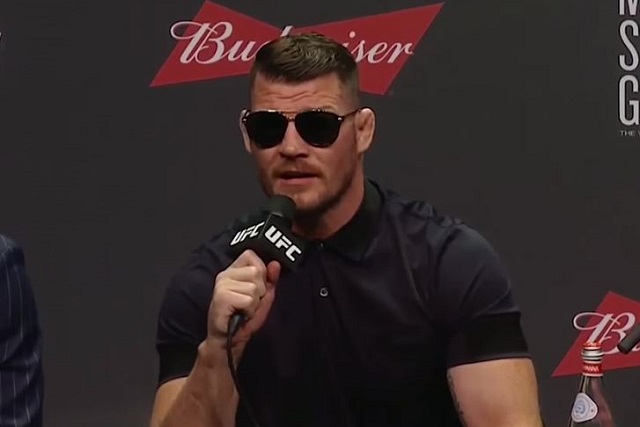 Ultimate Fighting Championship Middleweight Champion Michael Bisping is facing a lawsuit for allegedly attacking a man at a gym over the summer. According to the complaint, filed Monday in California Superior Court, Antonio Georgakopoulos claims that he was at a 24 Hour Fitness facility in Anaheim, when the British fighter went off on him.
The lawsuit alleges that on July 31, Georgakopoulos, a 19-year-old college student, was at the gym with a friend when Bisping started yelling at him, accusing him of moving the weights he was using. Georgakopoulos claims he apologized, but Bisping continued to yell at him, calling him a "little punk" and an "idiot," and saying, "You don't know who I am!"
Bisping allegedly then grabbed Georgakopoulos by the throat and choked him for two to three seconds until someone else broke it up. Georgakopoulos claims that Bisping later yelled, "Let's take this outside!" At this point, a crowd had formed and gym management stepped in to handle the situation, the lawsuit says.
According to the complaint, Anaheim police showed up and issued Bisping a "private persons arrest form" for assault and battery, but cops told TMZ that no arrest was made. They said they just made a report and referred the matter to prosecutors at the City Attorney's office, who opted not to press charges.
Bisping is currently scheduled to defend his championship in a fight against Georges St. Pierre in New York City on November 4. LawNewz.com reached out to his representatives for comment.
Have a tip we should know? [email protected]