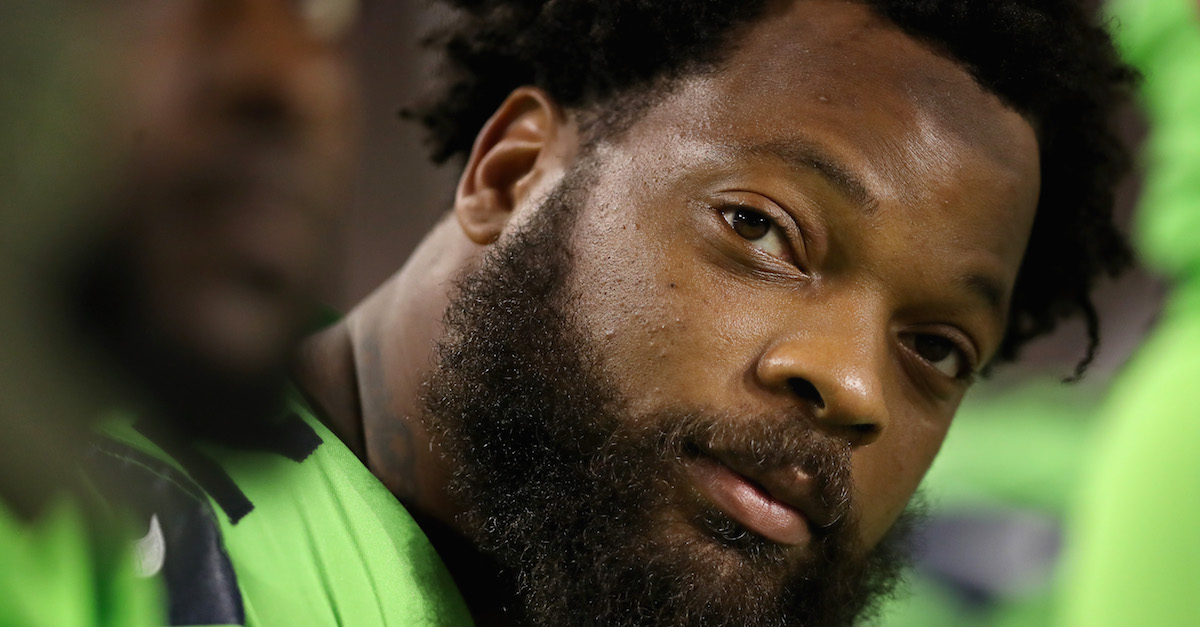 News broke Friday afternoon that NFL defensive end Michael Bennett, currently a member of last season's Super Bowl champion Philadelphia Eagles, is wanted in Harris County, Texas on the charge of felony injury to the elderly.
It's a charge that some on social media have called "bogus," others have linked to his protests during the national anthem and still other have tied to his controversial Las Vegas detainment.
New #Eagles DE Michael Bennett was indicted by a Harris County grand jury on a felony charge of injuring an elderly paraplegic woman at Super Bow LI. https://t.co/C1n2NJt6Fg pic.twitter.com/NWJG29BDIW

— Ian Rapoport (@RapSheet) March 23, 2018
Bennett is accused of intentionally and knowingly injuring a 66-year-old paraplegic woman on the security team at a viewing of Super Bowl LI at NRG Stadium in Houston.  He was there watching his brother Martellus Bennett play for the New England Patirots during the Super Bowl.
It's crime punishable a maximum of 10 years in prison.
Bennett allegedly barged through security when told to use a different entrance to the field, injuring the elderly woman.
The response to the news has been polarized. Blue checkmarks galore either said Bennett was being set up because of his race and protest history or by calling him a "race-baiting fraud."
Others said that Bennett was being treated worse than the Austin bomber "for taking a knee."
They are putting this bogus charge on Michael Bennett to send a message to OTHER Black NFL players to stop calling out white supremacy, or they will use the system of white supremacy to target other Black players who get too "uppity"

— Tariq Nasheed (@tariqnasheed) March 23, 2018
NFL player Michael Bennett, who has trashed the police and America, has been charged with a felony for allegedly harming an elderly woman.

He faces ten years if convicted.

— David Hookstead (@dhookstead) March 23, 2018
Lying, racebaiting fraud Michael Bennett indicted for felony charge involving injury of an elderly paraplegic person. NFL man of the year locked up for 2018. https://t.co/9xwLto9tSi

— Clay Travis (@ClayTravis) March 23, 2018
Michael Bennett is being politically persecuted for taking the knee. These felony charges for pushing past someone are way over the top and make it seem like he is the Austin bomber. Oh wait, the Austin bomber was "smart and kind." pic.twitter.com/zcH0FAi6ZR

— Eugene Gu, MD (@eugenegu) March 23, 2018
I call BS on the arrest of Michael Bennett for felony assault.

Complete BS.

I literally had to call to ask what they were accusing him of.

They are saying 14 months ago his hand touched a woman's shoulder at the Super Bowl as he walked on to the field.

That's it.

— Shaun King (@ShaunKing) March 23, 2018
The Houston "police chief" Art Acevedo did a press conference talking about Michael Bennett have low character. These same police chiefs down in Texas just referred to a white terrorist bomber as "challenged" and a "troubled young man"

— Tariq Nasheed (@tariqnasheed) March 23, 2018
Michael Bennett is a proven race-baiting liar. But liberals propped him up as "Man of the Year" & gave him an SI cover. Now, THEY'RE STILL DEFENDING HIM. Hurting an elderly paraplegic somehow isn't that bad? It's insane. But keep blaming police officers..

— Britt McHenry (@BrittMcHenry) March 23, 2018
Notice how examples are being made of nearly every single football player who had the audacity to use their freedoms to speak out peacefully about police brutality: Kaepernick (not signed), Eric Reid (not signed) and now this highly suspect indictment of Michael Bennett…

— Wajahat Ali (@WajahatAli) March 23, 2018
Bennett was previously involved in an altercation with police in Las Vegas outside of the Floyd Mayweather-Conor McGregor fight.
He said his detainment happened due to racial profiling and that excessive force was used. Police disputed that account and released a video.
[Image source: Christian Petersen/Getty Images]
Have a tip we should know? [email protected]