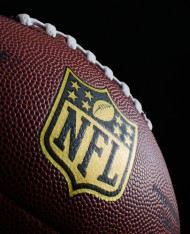 The NFL informed teams of a policy change in a memo late last month that will no longer allow prospects with convictions for domestic violence, sexual assault or weapons offenses to attend the NFL Scouting Combine – the invitation-only annual showcase event where college prospects hope to impress NFL scouts prior to that year's upcoming NFL Draft.
USA Today obtained a copy of the memo, written by NFL executive VP of football operations Troy Vincent, and reported, "Vincent wrote that invited prospects would be barred from 'any league-related event' if a background check turns up a felony or misdemeanor conviction. Players that refuse to submit to a background check will also be uninvited." Those players would also not be invited to the Draft.
The report notes that the changes are only expected to affect a handful of the more than 300 prospects invited to the Combine each year. Furthermore, any prospects affected by the rule will still have other avenues to impress scouts as they are not restricted from attending private workouts, pro days or regional combines.
According to the report, former Michigan linebacker Frank Clark, who was selected by the Seattle Seahawks second round of the 2015 Draft, would have been impacted by this rule change had it been implemented last year. Clark pleaded guilty to a lesser charge of persistent disorderly conduct stemming from incident where witnesses said he roughed up his girlfriend in a hotel room.
Under this interpretation of the NFL policy, it appears that the NFL is focused more the underlying incident rather than on the ultimate criminal disposition of the matter.   In other words, regardless of what crime a prospect ultimately pleaded guilty to, he still may be barred from NFL events if the underlying incident involved domestic violence, sexual assault or a weapons offense.   However, as was the case with last year's first-round pick Jameis Winston, if no charges are ultimately brought against a prospect, or they are dropped, they will not be banned from NFL events.
Over the past few years the NFL has faced a lot of backlash as a result of its perceived weakness on players with a history of domestic violence or other character issues.   According to the memo, this policy is another part of the NFL's ongoing effort to address those criticisms.
[h/t USA Today; image via shutterstock]
Have a tip we should know? [email protected]