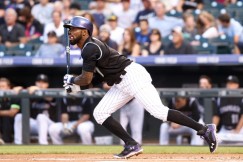 Major League Baseball Commissioner Robert D. Manfred Jr. announced on Tuesday that Colorado Rockies shortstop Jose Reyes is suspended with pay, pending the resolution of his criminal proceedings in Hawaii or a league investigation. The decision is in accordance with Section III.C.2 of MLB's new domestic violence policy that it adopted in August.
Reyes is charged with assaulting his wife in a hotel room last Halloween. After the criminal case is resolved and MLB's investigation has concluded, Manfred will determine whether and to what degree to discipline Reyes. In the meantime, MLB will not comment further on the matter.
Reyes will not be allowed to join his teammates for Spring Training. Rockies position players are scheduled to report to training on February 24, with their first full workout on the 25th.
His trial is scheduled for April 4, the same day that Colorado begins their season.
[h/t ESPN.com, image via Shutterstock]
Have a tip we should know? [email protected]