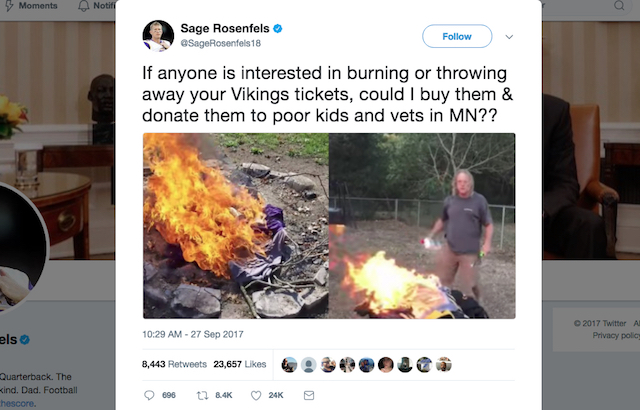 Sage Rosenfels no longer plays football professionally for the NFL, but he'd still like to help poor kids and veterans see a game or two.
The former Minnesota Vikings quarterback took to social media a few days ago in response to upset fans burning their tickets. Instead of destroying the tickets, he asked triggered fans to sell them to him so he could donate them to poor children and vets in Minnesota.
If anyone is interested in burning or throwing away your Vikings tickets, could I buy them & donate them to poor kids and vets in MN?? pic.twitter.com/tFfUBFjRAJ

— Sage Rosenfels (@SageRosenfels18) September 27, 2017
In an interview, however, Rosenfeld said that none of the offended fans took him up on the offer:
I never had anybody say, 'Hey, I can throw you a pair I'm not gonna use, give it to a soldier or an underprivileged kid,' I was ready to pony up a couple thousand bucks. But I would've been happy to buy those tickets off these people. They preferred to burn them, so nobody would use them.
Politically correct football fans have launched a series of anger-fueled counter-protests in response to widespread knee-taking during Defense Department-sponsored patriotic displays preceding NFL games last weekend. Dozens of athletes knelt during or before the national anthem in a show of unity with other kneeling athletes after President Donald Trump slurred the mothers of the original protesters.
At a rally in Alabama for losing GOP Senate primary candidate Luther Strange, President Trump said:
Wouldn't you love to see one of these NFL owners, when somebody disrespects our flag, to say, 'Get that son of a bitch off the field right now. Out! He's fired. He's fired!'
The national anthem protests were started by former 49ers quarterback Colin Kaepernick, in order to draw attention to racism and police brutality. Initially, Kaepernick simply sat the national anthem out, but was convinced to begin taking a knee instead–after an open letter from Green Beret veteran and fellow NFL player Nate Boyer—in order to protest injustice while simultaneously honoring veterans.
Later, people began to notice that America's national anthem, "The Star-Spangled Banner" is actually an explicitly racist and pro-slavery tune which celebrates the murder of African-Americans. This unexpected collective realization prompted a broader discussion of America's long and storied history of racism generally–and anti-black racism in particular–from commentators left and right.
Conservative reaction–led by massive disdain amongst white people–has been mostly negative, prompting angry NFL fans to complain that NFL games should be patriotic safe spaces where the flag, anthem and other American symbols are not disparaged.
Aside from the disagreement and harsh rhetoric, many fans have taken their anger to the next level by burning tickets and jerseys they've already paid for. The waste of the merchandise and services won't impact the NFL's bottom line, however, the symbolic nature of fires burning the namesakes of mostly-black athletes cannot be understated.
Rosenfels is now trying to stop the waste and violent imagery–and help out some veterans and kids in the process.
After playing in the NFL for 12 years–aside from his philanthropy–he now hosts a podcast called Locked On Vikings.
[image via screengrab]
Follow Colin Kalmbacher on Twitter: @colinkalmbacher
Have a tip we should know? [email protected]