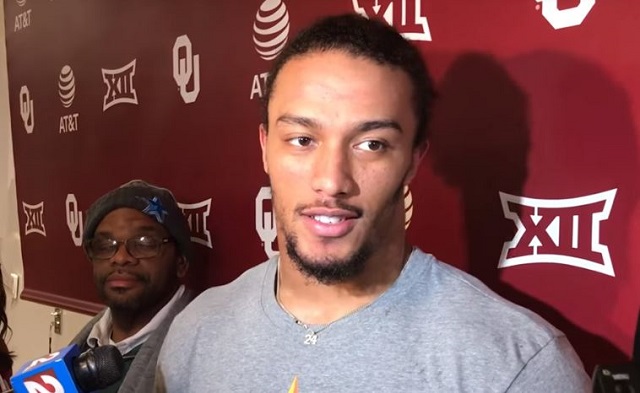 University of Oklahoma football star Rodney Anderson is the subject of sexual assault allegations made by a woman who filed for an emergency order of protection against him Monday night. The woman claimed in her filing that the alleged incident took place on November 16 after a night of drinking, but she did not remember what happened until speaking with a friend this past weekend, ESPN reported. Anderson denies the allegations.
The woman alleges that she had just met Anderson on the night in question, and was going to hire an Uber to pick her up, but Anderson's friends were "insistent" that she go with him. While discussing the events of the night with a friend weeks later, she was "recalling images and feelings of him forcing his fingers" inside her, the court filing says. She also claims that Anderson bit her, and that when she tried to put clothes on and leave, Anderson asked her what she was doing.
Anderson, a running back for the Oklahoma Sooners, denied all of this through his attorney, Derek Chance.
"Mr. Anderson is shocked and disturbed by [the woman's] claims," Chance said in a statement. "Mr. Anderson did not, nor would he ever, force himself on any woman. There are undoubtedly true victims of sexual assault, for whom Mr. Anderson carries a tremendous amount of compassion. However, there are those accused of sexual assault which they unequivocally did not commit — as is the case for Mr. Anderson."
A University of Oklahoma spokesman said that the university is investigating the matter.
Anderson is currently not facing charges, and a hearing is set for December 18. The Sooners are scheduled to play Georgia at the Rose Bowl on January 1, in the College Football Playoff Semifinal game.
[Image via screengrab]
Have a tip we should know? [email protected]