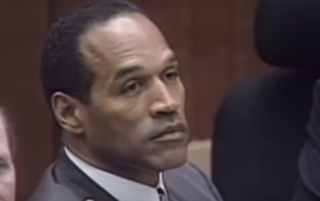 A bloody knife that may have been the smoking gun in the OJ Simpson double-murder trial was discovered buried outside Simpson's estate, the New York Post reports. A construction worker found the weapon while Simpson's house was being demolished years ago, and turned it over to an off-duty police officer who kept it as a souvenir until now.
According to TMZ, the cop retired from the LAPD in January of this year and told a friend in the homicide bureau that he had the knife and planned to frame it, engraving it with the departmental record number of the Nicole Brown Simpson/Ronald Goldman murder case from 1994. He asked the friend for the record number so he could complete the display. The friend informed his superiors, who made the retired cop turn over the weapon.
The blade is being tested for hair and fingerprints, and will be turned over to the LAPD Serology Unit for DNA testing. Regardless of the findings, double jeopardy laws prevent Simpson, who was found not guilty by a jury in 1995, from being charged again for the same offense.
Simpson is currently incarcerated for a 2008 kidnapping and armed robbery conviction.
[h/t via NY Post, screengrab via Yahoo]
Have a tip we should know? [email protected]