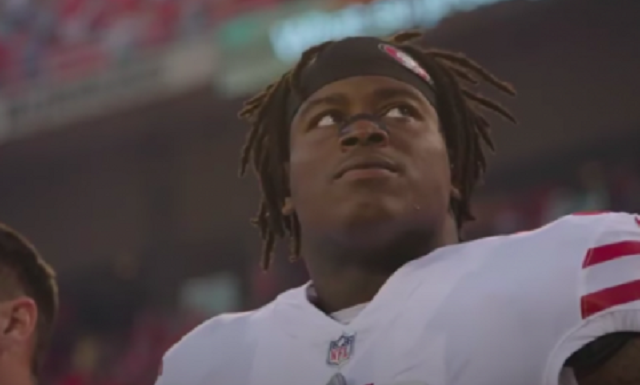 San Francisco 49ers linebacker Reuben Foster was arrested for the second time this month on charges of domestic violence, threats, and possession of a SIG Sauer 516 short-barreled assault rifle.
Foster's first arrest came January 12 for possession of marijuana in Alabama. He was released that night on a $2,500 bond. He is scheduled to be arraigned for that offense on February 28 in Tuscaloosa.
The Los Gatos Monte Sereno Police Department said that Foster was arrested in response to a possible disturbance. Upon arrival, officers identified Foster and arrested him "without incident." He was held on a $75,000 bail, and was released from jail that same night.
The Los Gatos Monte Sereno PD has issued this release re: the Reuben Foster situation. Three charges: Domestic violence, Threats, and Possession of an Assault Weapon. pic.twitter.com/3oMgA9sr3V

— David Lombardi (@LombardiHimself) February 12, 2018
According to sources obtained by The Mercury News, the arrest came from an accusation by Foster's girlfriend that he physically dragged her during an argument in their home that morning. The woman has allegedly been in a relationship with Foster for a number of years.
The investigation was forwarded to the Santa Clara County District Attorney's Office to review the matter. It will take about 30 days for the prosecution to decide weather to file charges.
The NFL's personal conduct policy states that any and all NFL employees may be put on paid leave if formally charged with a violent crime or sexual assault, or if the NFL finds that there is evidence that any violation of the policy has occurred. After potential internal NFL and external law enforcement investigations have concluded, offenses "involving domestic violence or sexual assault will result in a baseline six-game suspension without pay, with more if aggravating factors are present."
The 49ers said in a statement, "The San Francisco 49ers organization is aware of the report regarding Reuben Foster. We take matters of this nature seriously and are gathering all pertinent information."
[Image via YouTube screengrab]
Have a tip we should know? [email protected]