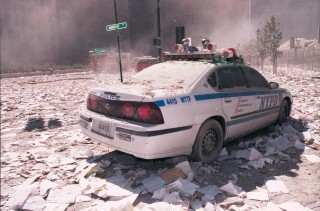 This Monday marks 16 years since the 9/11 terrorist attacks. That day, 2,977 people lost their lives in the plane hijackings and subsequent crashes in New York, Washington D.C., and Shanksville, PA. In the course of a couple of hours, thousands of people perished. Tragically, it didn't end there. The fallout of these attacks continues to sicken and kill people in the years that have followed.
The horror of 9/11 is not confined to that day. Tens of thousands of people – first responders, volunteers, cleanup workers and residents in the area – have been diagnosed with cancer and other serious illnesses caused by the toxic dust, ash and debris that blanketed Lower Manhattan after the attacks. These illnesses are often deadly, and in all cases diminish the victim's quality of life. They are costly to treat, and often prevent the sufferer from working and earning an income.
In 2015, Congress extended medical coverage to these victims by reauthorizing the James Zadroga 9/11 Health and Compensation Act of 2010, which was originally signed by President Obama on January 2, 2011. The reauthorization of the Act in 2015 also reinstated the September 11th Victim Compensation Fund, which provides compensation to people who suffered physical harm as a result of the airline crashes or as a result of the Ground Zero cleanup. It also provides compensation to eligible representatives of people who died in these events. The current reauthorization of the Victim Compensation Fund allows harmed individuals to submit their claims until December 18, 2020.
Find Out If You Have a Claim
I have dedicated my entire career to fighting for victims of personal injury. Helping 9/11 victims pursue compensation through the Federal fund has been one of the most professionally and personally rewarding things I've ever done. I am proud to help the heroes of that day get the help they need.
If you or a loved one worked or lived in Lower Manhattan in the eight (8) months following the September 11 terrorist attacks, and if you or the loved one has developed any type of cancer, respiratory illness or lung disease, please fill out a form online or call (212) 643-0044. You may be eligible for significant compensation from the Victim Compensation Fund.
Have a tip we should know? [email protected]