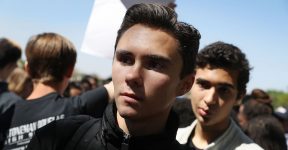 Conservative Twitter is mocking Marjory Stoneman Douglas High School shooting survivor David Hogg for his complaint to Axios about the school's clear backpack policy, an apparent added security measure students are supposed to come back to after spring break.
Hogg, who has been one of the most outspoken and visible Never Again campaigners since the deadly shooting — and who was even accused of being a "crisis actor" — said the normal backpack ban is "unnecessary" and "embarrassing for a lot of students."
Hogg: "After we come back from Spring Break, they're requiring us all to have clear backpacks…it's unnecessary. It's embarrassing for a lot of the students." #Axios360 pic.twitter.com/xvR8aP5th1

— Axios (@axios) March 23, 2018
"After we come back from Spring Break, they're requiring us all to have clear backpacks…it's unnecessary. It's embarrassing for a lot of the students," he said.
The way this was received on Twitter was essentially, "So, how does it feel to be have your rights limited by common sense?"
Huh. So common sense limitations on a right you highly value will be ineffective, have undesirable effects, and are therefore unacceptable? I wonder if that same argument has other applications. #2a https://t.co/99YGD0iYKq

— Adam D. Bradley ن (@docbradley) March 23, 2018
If you won't abandon the 2nd Amendment, you don't care about dead kids, he says-

But woah, you can't mess with high schoolers backpack choices. This isn't North Korea. https://t.co/dJps3CTWED

— Buck Sexton (@BuckSexton) March 23, 2018
So, he wants to take away our rights but doesn't want a clear backpack? https://t.co/fUafzrDIbj

— Dan Gainor (@dangainor) March 23, 2018
If David Hogg will not be willing to give up his opaque backpack for the safety of children, he has blood on his hands. #worksbothways #hypocrite https://t.co/Pjh48CswRU

— Tracey Shapiro (@Tracey1024) March 23, 2018
https://twitter.com/Gmomma5boys/status/977176697823989765
The school is actually taking actions to help improve safety, and you're upset with it? https://t.co/I0Vbdtmikx

— Adam Hartley (@AdamHartley43) March 23, 2018
At least two fellow students have criticized the policy, saying that going to school will be like "going to prison."
After spring break I will no longer be going to school. I will be going to prison. I will wear a clear backpack and they will wave metal detecting wands until they can get the metal detectors. My student number will now become my inmate number.

— kiara #neveragain (@KiaraSeon) March 22, 2018
but the fact that i will now have to have a clear backpack and a school ID on me at all times makes it feel like a prison. i love douglas. it's my second home and it's hurts me so much to see it fall apart in light of these events

— naomi rozenberg|#douglasstrong (@naomirozee) March 22, 2018
Still others said that backpack policy is an indication that school administrators, not students, are the ones eating Tide Pods.
That is so stupid the guy who shot up the school in a rifle I doubt that it would have fit in a backpack clear or otherwise. That's their response not armed guards in the school but clear backpacks. I think the school administrators are eating Tide Pods to.

— Warren Hildebrandt (@WarrenHildeb7) March 22, 2018
Clear backpacks aren't the only school policy change in lieu of gun legislation many of the students are seeking.
Students and staff have to wear IDs while on school grounds. Permanent metal detectors are also being discussed.
[H/t Twitchy]
[Image via Joe Raedle/Getty Images]
Have a tip we should know? [email protected]