A federal judge in Washington, D.C. will hear the case Monday of an Alabama woman who went to Syria to become an ISIS bride and is now being blocked from returning home by a State Department that ruled she is not an American citizen.
Even though she was born in the United States, Secretary of State Mike Pompeo says 24-year-old Hoda Muthana is not an American citizen because her father was a foreign diplomat at the time of her birth, exempting her from the provision that anyone born in the country is automatically considered a citizen.
"Ms. Hoda Muthana is not a U.S. citizen and will not be admitted into the United States." Pompeo said in a statement. "She does not have any legal basis, no valid U.S. passport, no right to a passport, nor any visa to travel to the United States," he said.
While President Donald Trump has taken credit for blocking her return, the decision to not recognize her as a citizen was actually made in the last days of the Obama Administration, according to Seamus Hughes of the George Washington University Program on Extremism. "In many ways, the Trump administration is furthering the Obama Administration's decision, and I don't think it is the correct decision," said Hughes, during an appearance on the Law&Crime Network's Brian Ross Investigates.
While a part of ISIS, Muthana posted a number of Twitter messages calling on supporters to kill American civilians in the United States.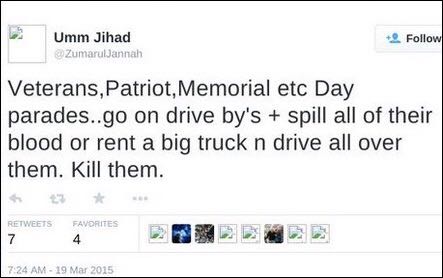 "Veterans, Patriot, Memorial etc Day parades..go on drive by's + spill all of their blood or rent a big truck n drive all over them. Kill them," Muthana tweeted in 2015.
Her lawyers say they will argue before Judge Reggie Walton that the woman was twice given U.S. passports, indicating that she was an American citizen. Lawyers for the Muthana family also say that she is willing to face any charges that would be brought against her upon her return to the United States.
"I think that we have very strict rules about taking someone's citizenship away, revoking it in any way, and crossing this threshold is unacceptable," said Karen Greenberg of the Center on National Security at the Fordham Law School.
But Greenberg said that it is entirely appropriate to charge Muthana with crimes for her involvement with ISIS.
To date, prosecutors have brought charges against some 13 Americans who have come back from ISIS-controlled territory, according the Hughes of the Program on Extremism.
Diane Foley, whose journalist son James was captured and executed by ISIS, also appeared on Brian Ross investigates and says it is important that anyone who played a role with ISIS face prosecution.
"I think it is essential, otherwise I feel that the surviving fighters will become emboldened to just bring their terrorism here," she said.
Two of the four ISIS fighters who were allegedly involved in her son's murder, dubbed "the Beatles" because of their British accents, have been captured and the United States is negotiating with British officials to bring them to the U.S. to stand trial.
"It appears that they'll be brought back to the Eastern District of Virginia and face federal charges," said Hughes. Whether they will face the death penalty, "is still on the table," said Hughes.
The terrorist who executed Foley was known as "Jihadi John" (Mohammed Emwazi). He was killed in a drone strike in 2015. The fourth member of the terror cell is currently imprisoned in Turkey on terror charges.
Follow us on Twitter @BrianRoss and @RhondaNews. Send tips to [email protected] and [email protected]. 
[Image via ABC News screengrab]
Ariel Tu contributed to this report.
Have a tip we should know? [email protected]