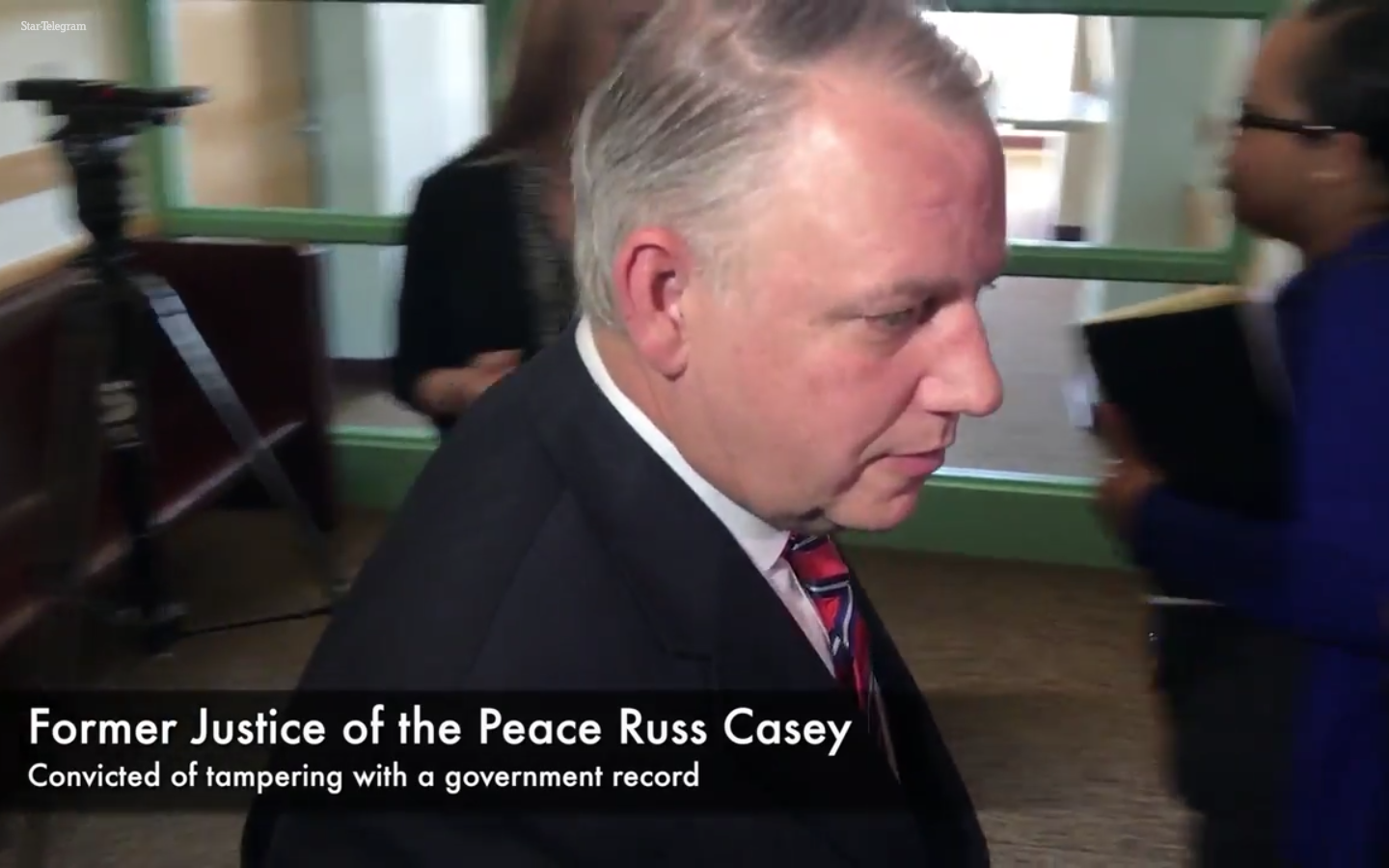 A white, Republican judge in Tarrant County, Texas has been sentenced to five years probation after pleading guilty to intentional electoral fraud.
As many legal observers have noted, however, such leniency was markedly absent when a black woman in the same county was prosecuted and sentenced to five years in prison in early March for unintentionally voting when she was not allowed to do so.
Justice of the Peace Russ Casey resigned from his position on Monday after he admitted to submitting a series of forged signatures in order to secure his spot on the March 6 ballot during Texas's first-in-the-nation primary last month. In comments to the Fort Worth Star-Telegram, Casey said:
I apologize to the citizens of Tarrant County, the Tarrant County Republican Party, my family and friends for the way that I have ended my judicial career. Today's proceedings have begun my transition from public to private life. I ask for forgiveness and respect for our privacy as we go through this transition.
The now-former judge was ultimately convicted of tampering with a government record–a state jail felony– after an investigation into the false signatures spurred on by one of his primary opponents.
Casey's intentional flouting of election rules and Texas state law was initially noticed by justice of the peace candidate Lenny Lopez–who said he recognized many of the same signatures on Casey's petitions. Casey's name was then removed from the ballot and Lopez went on to lose to Bill Brandt. In an interestingly self-inflicted turn of events, Lopez's signature complaint was only submitted after Casey himself filed a lawsuit seeking to have Brandt and Lopez tossed off the ballot.
Law&Crime consulted a criminal defense attorney in Fort Worth to explain the ins-and-outs of Casey's plea deal. Phil Hall said, "Casey must follow the conditions of his probation for 5 years. Failure to do so will expose him to the full range of punishment. In this case, Casey is facing up to 2 years in a state jail facility. Those days must be served day for day [if he violates the terms of his probation]."
Law&Crime also obtained a screenshot of Casey's disposition: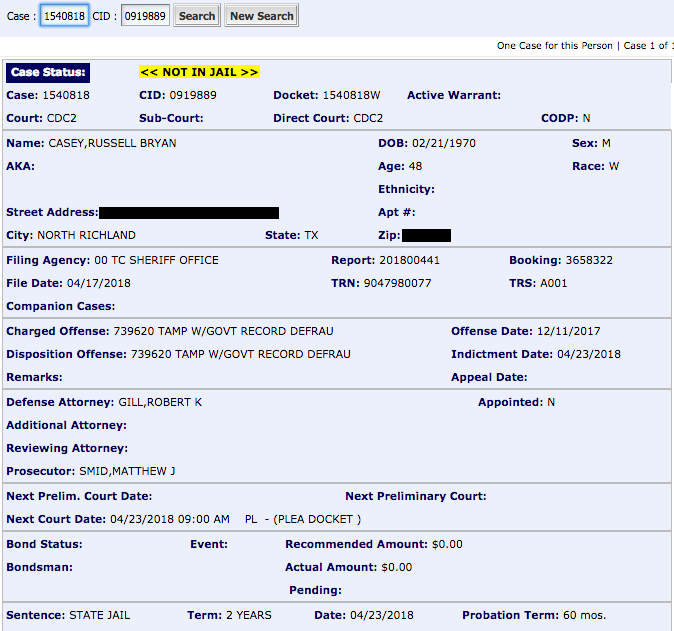 Responding to Casey's conviction, Tarrant County District Attorney Sharen Wilson said, "No one is above the law in Tarrant County." This comment was immediately mocked online. The New York Times' national correspondent Mike Wines noted:
"No one is above the law," TX DA Sharen Wilson says after a judge who faked signatures to get on the ballot pleads guilty. The white JP got probation. In 2017 DA Wilson won 8 years in prison for a Hispanic permanent resident who cast 2 votes by accident. https://t.co/9j5mk6B0uK

— Michael Wines (@miwine) April 23, 2018
Last month, Wilson's office completed their prosecution of 43-year-old Crystal Mason, a black mother of two who was controversially sentenced to five years in prison for voting in the 2016 election without realizing that her voting rights were restricted due to a prior felony conviction.
Mason had recently been released from prison after serving a three-year sentence for tax evasion and mistakenly thought that her full voting rights had been restored. Remarking upon the mistake, she said:
They tell you certain things like you can't be around a felon, you can't have a gun. No one actually said, 'Hey, you can't vote this year,'
Mason also rubbished the idea that her engagement with the nation's limited democratic processes was an attempt to game the system. She noted, "You think I would jeopardize my freedom? You honestly think I would ever want to leave my babies again? That was the hardest thing in my life to deal with. Who would — as a mother, as a provider — leave their kids over voting?"
Law&Crime reached out to Wilson's office for comment. Communications Officer Sam Jordan said:
On one hand, Casey admitted his guilt and took a deal. On the other hand, Mason was offered a deal but refused–and given the choice between a jury trial and a judge, she went with a judge. Our office made no sentencing recommendation in the case. The judge went with five years–keeping with three previous cases in Tarrant County over similar [election fraud-related] incidents. Judge Casey has no prior criminal record and Ms. Mason had several previous felony convictions. Accountability is certainly something we take into consideration at the DA's office.
[image via screengrab/Fort Worth Star-Telegram]
Follow Colin Kalmbacher on Twitter: @colinkalmbacher
Have a tip we should know? [email protected]