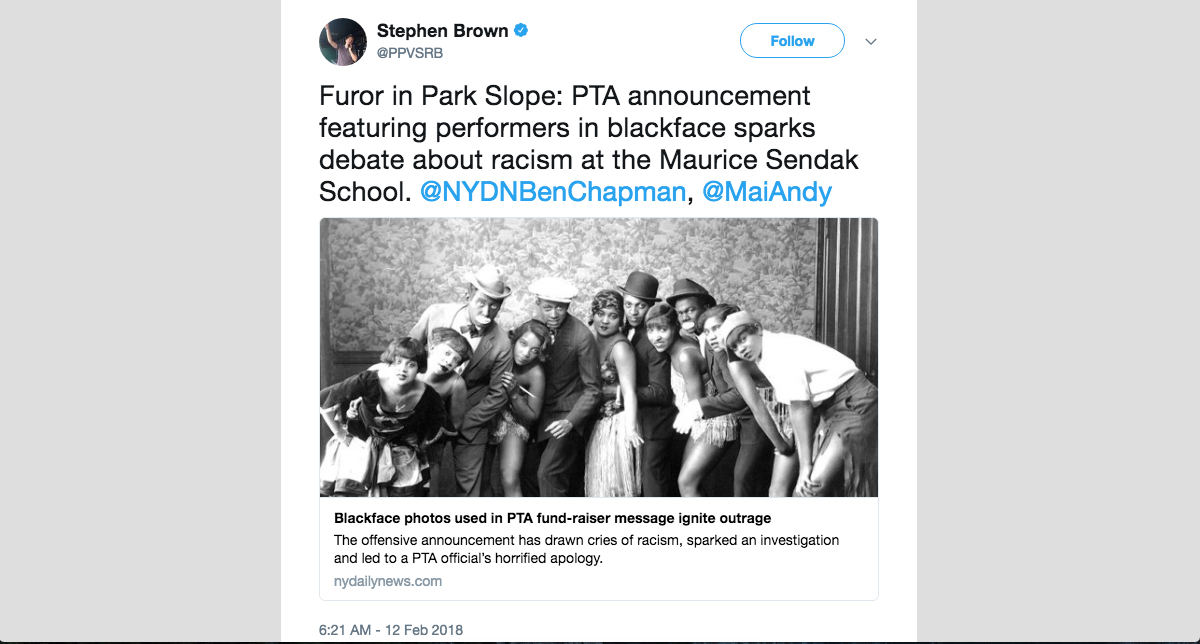 A PTA group at a public school in Park Slope, Brooklyn is under investigation after sending out an announcement featuring performers wearing blackface.
The Facebook post promoted a speakeasy-themed fundraiser for Public School 118, The Maurice Sendak Community School–named after the author of "Where the Wild Things Are."
Several 1920s-era photographs were included in the announcement. At least one of those photographs, however, included two performers–both men–wearing blackface.
Blackface is a form of performance and stage make-up wherein typically white performers paint their faces in order to portray black people. Such performances were limited to racially-bigoted and stereotypical caricatures of African Americans. During the Jim Crow era, blackface was extremely popular with white audiences but its attractiveness eventually diminished as white Americans slowly began to acknowledge some aspects of black Americans' humanity.
The controversy was first noted by the New York Daily News after they received a copy of a letter sent to New York City's Department of Education written by an anonymous "concerned community member."
That anonymous letter lays blame at the feet of the "all-white PTA executive board" and refers to "horrid pictures of black face."
Posted on Facebook, the racially-charged speakeasy announcement was deleted on January 21 of this year. The PTA group's co-president, Nadine Baldasare, took responsibility for the racially-charged post. She wrote, in apology:
There are no acceptable excuses for how this happened (it was late, I was tired, I was rushing, etc.) because no excuse can change what I know to be true. My privilege as a white person requires that I be conscientious, engaged and informed when representing our community and promoting events. I failed to be fully engaged here, and as a result, I added to a hostile media landscape that continues to deepen wounds carved by persistent racism in our society. I am deeply sorry.
The anonymous concerned community member termed Baldasare's response "a poorly executed apology letter" and called for her resignation. Baldasare acknowledged that stepping down is a possibility–but wouldn't make the decision on her own. She said, "This is my error and I caused pain to my community. The question is what is the best next step? There's no disagreement here that I made an error and we as a community have to come together. It's not an option to not look at it and not address it."
Department of Education spokesman Douglas Cohen remarked on the controversy, noting, "These serious reports are being investigated, and we're working with the school community to create a schoolwide diversity board and ensure these concerns are swiftly addressed."
In New York City schools, PTA groups are regulated by education and school officials.
The blackface contretemps has raised other questions about race relations at Maurice Sendak. The anonymous letter took the opportunity to point those out, noting, "There have been a multitude of complaints regarding students of color being teased, insulted and bullied by fellow white students with no real action taken by the school."
Maurice Sendak, located in Brooklyn's affluent Park Slope neighborhood, is a racial anomaly among New York City schools–it is 60% white. New York City schools, on average, are roughly 15% white.
[image via screengrab/Facebook/Twitter/PTA Public School 118]
Follow Colin Kalmbacher on Twitter: @colinkalmbacher
Have a tip we should know? [email protected]