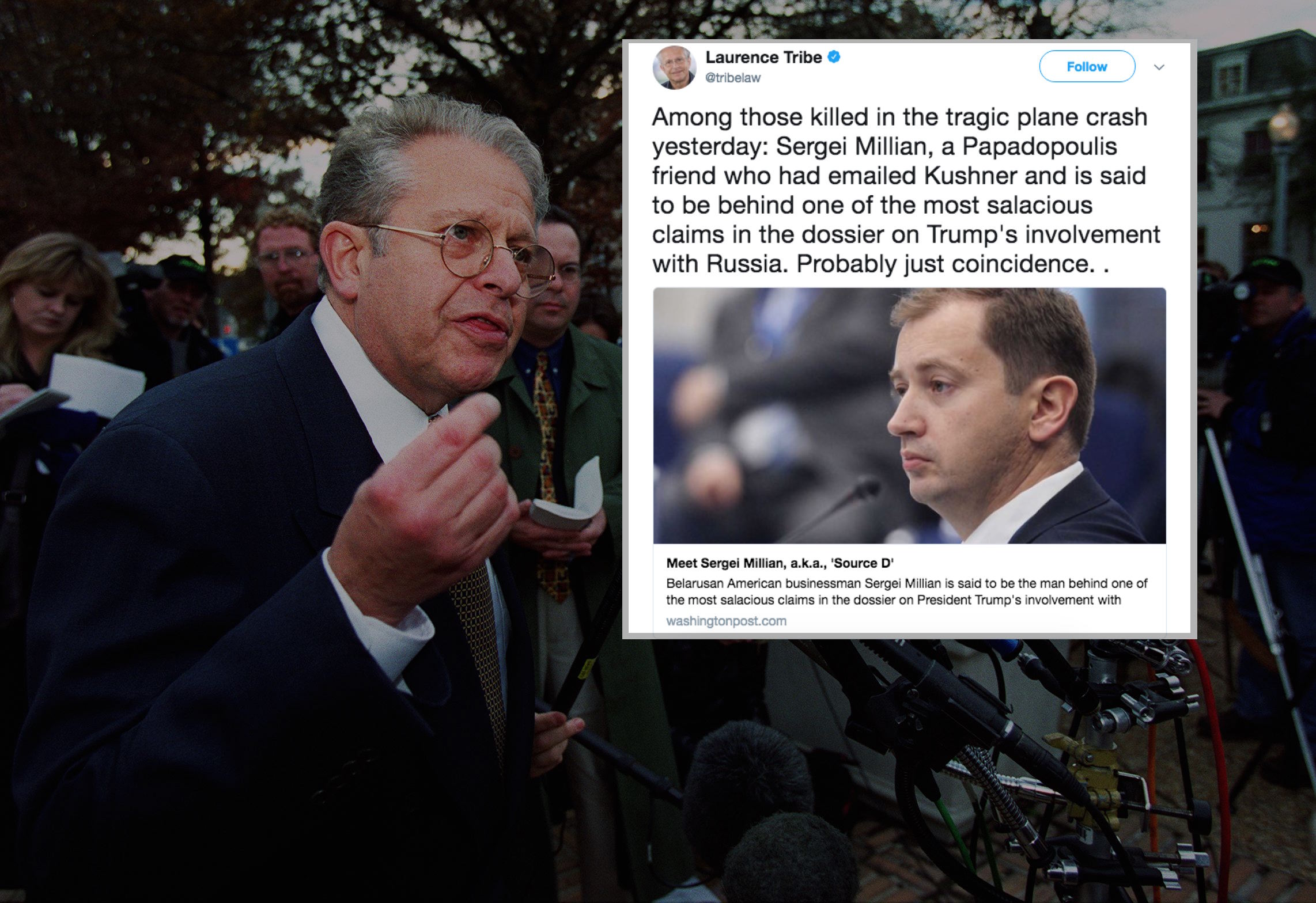 Liberal legal icon and law professor Laurence Tribe made waves on Monday after he insinuated that Sunday's plane crash in Moscow was possibly the result of foul play.
In a tweet sent Monday at 9:49 a.m., Tribe wrote:
Among those killed in the tragic plane crash yesterday: Sergei Millian, a Papadopoulis [sic] friend who had emailed Kushner and is said to be behind one of the most salacious claims in the dossier on Trump's involvement with Russia. Probably just coincidence. .
To begin with: Millian was not on the plane in question. His name is not included in the official list of victims provided by the Russian Emergency Situations Ministry.
For those unacquainted with Millian, he's a lesser-player in the never-ending Russiagate story with ties to the Steele dossier and is also known as "Source D."
Also, note: the conspiracy-oriented cause-and-effect on display in Tribe's tweet–which he deleted immediately after being asked about it by Law&Crime–wasn't the only shocking claim therein.
The suggestion of foul play was made in service of a larger conspiracy theory somehow involving George Papadopoulos, Jared Kushner and "salacious claims" made in the discredited Steele dossier. For those keeping track, "salacious claims" is a wink-nod-euphemism for the allegation that Donald Trump paid Russian sex workers to pee on a bed in a Moscow hotel suite while he watched. Millian is said to be the source of this claim.
Potential connective tissue between Papadopoulos, Kushner, the Steele dossier and Millian's alleged assassination is likely not extant. Attempts to suss out any sustained relationship between the two men, the one dossier and the one suspected assassination naturally proved fruitless.
Law&Crime reached out to Tribe a second time in order to clarify who exactly would have wanted Millian dead enough to down an entire Antonov An-148 aircraft–and what the relationship between all the alleged players exactly was–but our second email was not answered.
Barack Obama's former law school mentor made this insinuation based off of the basic claim that Sergei Millian was actually on the Saratov Airlines plane which crashed just outside of Moscow on Sunday–killing all 71 people on board.
Scouring of publicly-available data turned up no evidence of Millian actually being on the plane.
When pressed by Law&Crime to account for this basic claim–that Millian was on board the flight that crashed on Sunday–Tribe responded:
I'm not a source for the claim that Sergei Millian was on the downed plane, and as I've said in a corrective tweet I can't vouch for any of those who reported it in many places on social media earlier today. My suspicion now is that it wan't true, so I'm deleting my tweet assuming the contrary.
According to The Daily Beast's Marlow Stern, Tribe fell for a hoax originally sourced to 4Chan–an anonymous trolling and discussion forum. That is, a Harvard law professor saw something sensational somewhere on the internet and didn't verify it before tweeting about it and sharing it with thousands of people.
Before issuing the "corrective tweet" mentioned above, Tribe was roundly slammed on social media.
Adam H. Johnson with Fairness and Accuracy in Reporting sarcastically jabbed at the optics of Tribe promoting a wild conspiracy theory:
its good as hell a professor of constitutional law at Harvard Law is indistinguishable from my adderall-addicted college roommate who stayed home all day watching Loose Change videos

— Adam H. Johnson (@adamjohnsonNYC) February 12, 2018
The Intercept's Glenn Greenwald thoroughly raked Tribe over the coals:
So Harvard Law's @tribelaw 1) falsely claimed a key Russian figure in Trump investigation was killed in yesterday's plane crash due to an internet hoax & then 2) implied Putin murdered him to keep him silent. I bet anything he'll soon be back on MSNBC as a #Resistance expert pic.twitter.com/wsAtvXAA9y

— Glenn Greenwald (@ggreenwald) February 12, 2018
A later series of tweets by Tribe attempted to explain away his mishap.
[image via MANNY CENETA/AFP/Getty Images/screengrab/Twitter]
Follow Colin Kalmbacher on Twitter: @colinkalmbacher
Have a tip we should know? [email protected]