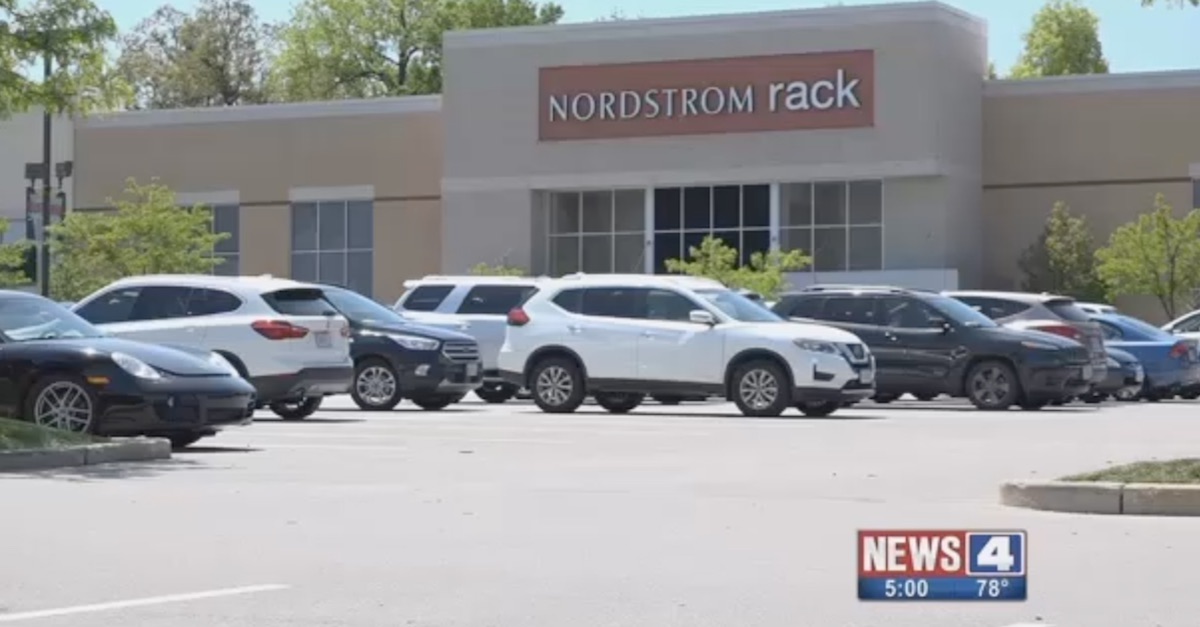 Three black teens who were shopping for prom clothes at a Nordstrom Rack location on Thursday in Brentwood, Mo., and were falsely accused of theft have gotten an apology from the store's president.
Nordstrom Rack President Geevy Thomas flew to St. Louis to apologize in person to Mekhi Lee, Dirone Taylor and Eric Rogers II, KMOV reported.
The incident has sparked national outrage as yet another example of black people being accosted or worse while they do normal activities in life like shopping.
3 Black teenage boys were shopping @Nordstrom for prom clothes.

Police surrounded them when they left the store. They had been accused of theft.

They, of course, stole nothing. They were just Black and in @Nordstrom. https://t.co/DWNqTfUNxt

— Shaun King (@ShaunKing) May 8, 2018
The teens have spoken out since and say that they got nervous as soon as they noticed store employees following them around the store.
"I was nervous the whole time. Every time we move, they move. when we looked up, they looked up," Lee said.
Despite making a purchase in the store, they said that police confronted them as soon as they left the store and told them they were accused of theft.
Police determined that no such thing occurred and Rogers credited authorities for doing a "good" job.
"The police were actually good. They understood where we were coming from and they showed us that they were just doing their job," Rogers said. He also said they made a purchase to prove a point.
"We made the purchase to show them that we're equal and we didn't have to steal anything," he said.
Taylor said he "knew it was coming" but also knew "we didn't deserve it."
"I knew it was coming, but at the same time I was feeling embarrassed, agitated, mixed emotions with the whole situation because I know we didn't deserve it," he said.
The teens said there was a separate incident at the store where a customer berated them and said, "Are your parents proud of you for what you do?" This sparked a verbal altercation and management then broke it up.
President of the St. Louis NAACP Adolphus Pruitt said in a statement that the incident must result in a discussion that has "sustenance" and "measurable outcomes."
Nordstrom Rack admitted that it "did not handle this situation well."
"We apologized to these young men and their families. We want all customers to feel welcome when they shop with us and we do not tolerate discrimination of any kind," the store said in a statement.
Law&Crime has reached out to both Nordstrom Rack and the St. Louis NAACP for comment.
The situation comes not long after two black men, Rashon Nelson and Donte Robinson, were arrested at a Starbucks in Philadelphia while waiting for a friend to meet them there.
Starbucks responded by issuing a full apology and by mandating racial-bias education for employees. Nelson and Robinson settled with the City of Philadelphia for $1 each and a $200,000 contribution to establish a program for young entrepreneurs.
The Nordstrom Rack aftermath is also unfolding as three black women, Donisha Prendergast (Bob Marley's granddaughter, Kells Fyffee-Marshall and Komi-Oluwa Olafimihan, plan to file suit against the Rialto Police Department in California.
As they were leaving an Airbnb rental property with luggage, a white neighbor called the cops because she assumed they were thieving and they were detained.
Update: the St. Louis NAACP has provided Law&Crime the following statement.
NAACP St. Louis statement by LawNewz on Scribd
Nordstrom Rack also responded to Law&Crime's request for comment.
Recently there was a situation in one of our Rack stores that resulted in our employees calling the police. We have guidelines that direct our employees to only call the police in emergency situations. Unfortunately, those guidelines weren't followed. As soon as we became aware of the incident, Geevy Thomas, president of Nordstrom Rack, reached out to each of the impacted families to offer our sincere apologies, listen to their concerns and express our extreme disappointment that this situation occurred.

Today, Geevy met with the young men and their families to learn more about their experience and discuss how we can improve both in St. Louis and across the country.

Nordstrom is committed to creating a welcoming and respectful environment for our customers and our employees. We do not tolerate discrimination of any kind.

"I feel fortunate to have met these young men and their families. I appreciate the opportunity to listen to their concerns and offer our sincere apologies on behalf of Nordstrom," said Geevy Thomas, President of Nordstrom Rack. "I also want to thank the young men for their poise in dealing with local law enforcement and the police themselves for handling the situation professionally.

"We want to make sure we have a full understanding of the situation. We are conducting a thorough internal investigation of the actions taken by our employees and are moving quickly to understand where we have opportunities to improve and take action. We are committed to ensuring our processes and guidelines are well understood by our employees, and identifying opportunities to enhance the training and resources we offer them."
[Image via KMOV screengrab]
Have a tip we should know? [email protected]