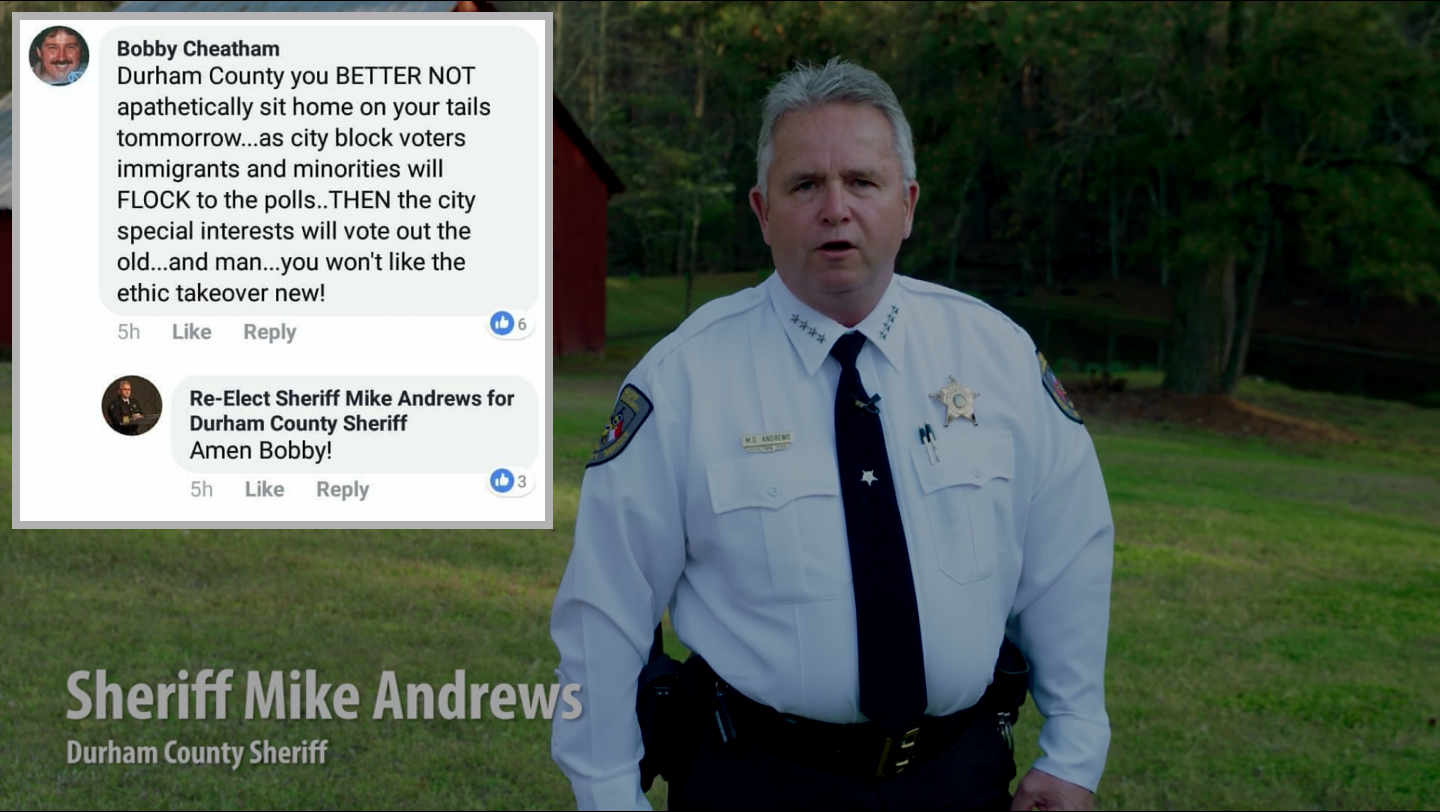 Durham County Sheriff Mike Andrews' re-election campaign was thrown into chaos on the eve of election day due to an allegedly racist Facebook post and the campaign's interaction with the poster.
On Monday afternoon, a man named Bobby Cheatham posted the following comment on the Andrews campaign's official Facebook page:
Durham County you BETTER NOT apathetically sit home on your tails tomorrow … as city block [sic] voters immigrants and minorities will FLOCK to the polls. THEN the city special interests will vote out the old…and man…you won't like the ethic [sic] take over [sic] new [sic]!
Inveterate spelling issues aside, the commenter's invocation of "immigrants and minorities," and obvious allusions to "black voters," and "the ethnic takeover" were controversial enough. Most campaigns would have likely deleted such racially-charged comments–or simply ignored them. The Andrews campaign took a different approach.
In response to Cheatham's race-baiting, the page administrator for Re-Elect Sheriff Mike Andrews for Durham County Sheriff replied, "Amen Bobby!" Cheatham responded back, "good luck."
After that, the post went viral. Screen captures of the offending remarks–and the Andrews campaign's apparent endorsement of those remarks–immediately lit up the outraged segments of social media.
Andrews eventually learned about the controversy and had Cheatham's post removed. In comments to The Herald-Sun, Andrews said, "I do not agree with it in any form or fashion." The candidate also said the moderator who responded to the comment was no longer working with the campaign and shouldn't have been commenting in the first place.
But the damage was already done.
Aside from eliciting a massive fury on social media, the post has caused Andrews to lose at least one ally in local law enforcement. After previously endorsing Andrews' re-election bid, Morrisville Police Chief Patrice Andrews announced she was withdrawing her support. She wrote:
I believe in accountability for those that you charge with the most important aspects of your professional and personal life. What is most disheartening is the response from the moderator on this page supporting this person's overtly racist and discriminating message. I believe in diversity and inclusiveness. This does not reflect my values and therefore I am removing my endorsement for re-election.
A Democrat, Andrews faces Clarence Birkhead in Tuesday's primary election. There are no GOP candidates running for the office of Durham County Sheriff in the November election.
[Image via screengrab/Re-elect Sheriff Mike Andrews for Durham County Sheriff]
Follow Colin Kalmbacher on Twitter: @colinkalmbacher
Have a tip we should know? [email protected]