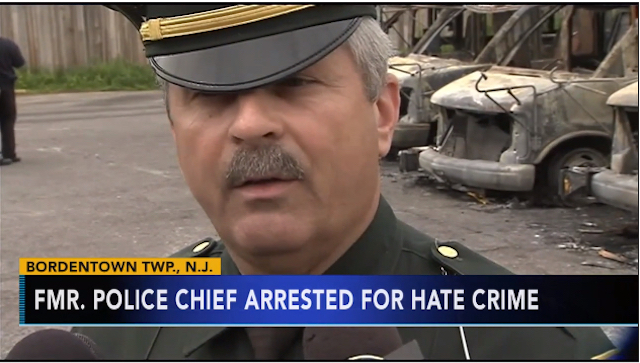 A former police chief in New Jersey is currently under federal investigation after allegedly making a series of racially bigoted comments toward black people in front of other officers.
Frank Nucera Jr. used to have a job as the head of the Bordentown Township Police Department. That recently changed.
According to an unsealed criminal complaint, Nucera was recently arrested by federal agents for using a myriad of racial slurs and placing canine units at high school basketball games in order to frighten the township's black inhabitants.
FBI Special Agent Vernon Addison wrote the following of the 60-year-old former police chief, "[Nucera] has a significant history of making racist comments concerning African Americans, to whom he frequently referred to as 'n—-rs'…"
Nucera's behavior came to light after one of his men began a year-long project of recording the offensive statements he made. Those recordings were eventually provided to the FBI, who arrested Nucera yesterday.
During one such recording, a man the FBI identified as Nucera can be heard comparing black people to the radical Islamic terrorist organization ISIS. He says:
These n—-rs are like ISIS, they have no value. They should line them all up and mow 'em down. I'd like to be on the firing squad, I could do it. I used to think about if I could shoot someone or not, I could do it, I'm tired of it.
Another incident cited in the documents filed with Nucera's case concerned two black teenagers who were staying at a hotel on the night of September 1, 2016. Two Bordentown Township Police officers responded to a call about patrons who hadn't paid their bill–an 18-year-old African American man and a 16-year-old African American girl, referred to as "Civilian 1" and "Civilian 2," respectively.
An FBI press release describing the incident reads:
The officers called for backup, and numerous officers, including then-Chief Nucera, arrived on the scene. After Civilian 1 was handcuffed and was being escorted out of the hotel by police, Nucera allegedly approached him from behind and slammed the man's head into a metal doorjamb. A subordinate police officer later surreptitiously recorded Nucera making racist and hostile remarks about Civilian 1, Civilian 2, and African Americans more generally. He  repeatedly used racial slurs to refer to Civilian 1 and Civilian 2, and said: "[t]hese fucking people" should "[s]tay the fuck out of Bordentown."  He also said it "would have been nice" if officers could have used a police dog during the arrest.
After that incident, Nucera is alleged to have said, "I'm fucking tired of them, man. I'll tell you what, it's gonna get to the point where I could shoot one of these motherfuckers. And that n—-r bitch lady, she almost got it."
Nucera mysteriously "retired" in January of this year–after Bordentown Township officials learned of the federal investigation.
He was charged with a hate crime and excessive force. He faces 10 years in prison and a fine of $250,000.
[image via screengrab courtesy 6ABC Action News]
Follow Colin Kalmbacher on Twitter: @colinkalmbacher
Have a tip we should know? [email protected]