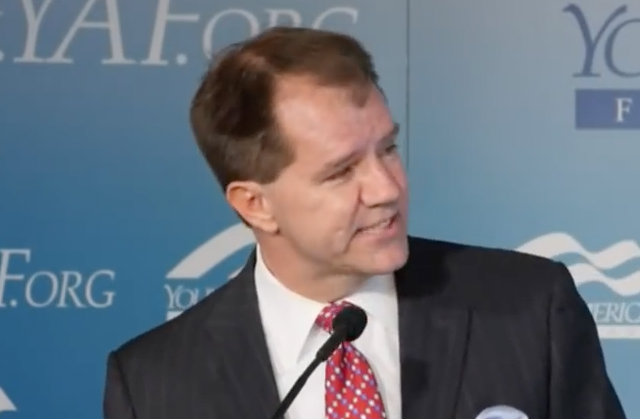 No doubt Don Willett remains pleased with his nomination to the 5th Circuit Court of Appeals. Too bad he's reportedly being told to tone down his popular Twitter account, if not outright end it. Here's this post from a reporter for The Texas Tribune:
! John Devine, fellow SCOTX justice, says White House has asked @JusticeWillett to "sort of take his Twitter account down & behave himself"

— Patrick Svitek (@PatrickSvitek) October 19, 2017
Let's be honest. Most judges tend to keep a low profile. Willett, a Justice on the Texas Supreme Court, is kind of a exception, though. His popular Twitter account @JusticeWillett features over 103,000 followers as of Thursday afternoon. But this left a pretty lengthy digital trail. Case in point: Months ago, he ended up on Donald Trump's short list to fill the U.S. Supreme Court seat left vacant by Antonin Scalia, so Mediaite columnist Alex Griswold looked it up and discovered that the justice fired shots at a certain Republican candidate. (Hint: It was the one sued over Trump University.)
Low-energy Trump University has never made it to #MarchMadness. Or even to the #NIT. Sad! 🏀 pic.twitter.com/DWcfJOZkPu

— Justice Don Willett (@JusticeWillett) March 15, 2016
"With malice toward none, with charity for all . . . except for all the losers, clowns, and dummies."
—President Donald Lincoln

— Justice Don Willett (@JusticeWillett) August 7, 2015
Willett didn't get nominated to replace Scalia, but Trump tapped him for the appeals court seat last month. Will the justice stop tweeting? He pretty much has. The justice, formerly prolific on Twitter, last made a post on Sept. 28.
No words.

I am honored & humbled by @POTUS's nomination to the 5th Circuit.

Thank you, Mr. President—also Senators @JohnCornyn & @TedCruz. pic.twitter.com/499LFNdjbC

— Justice Don Willett (@JusticeWillett) September 29, 2017
Those anti-Trump tweets aside, Willett's nomination makes a lot of sense from a political POV. His judicial ideology is thoroughly conservative if not outright libertarian. Trump consistently courts religious right-wingers, so it helps that the justice talks a lot about his Christianity. If Willett stopped tweeting for good, it wouldn't be surprising. Most judges keep a low profile on purpose. Still, it's pretty ironic that this White House, of all White Houses, is telling Willett to "behave" himself on social media.
[Screengrab via YAFTV]
Have a tip we should know? [email protected]