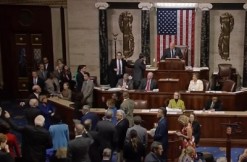 On Thursday, the House of Representatives broke down. Democrats lashed out after several Republicans mysteriously changed their vote last minute on an LGBT-focused amendment. What seemed like a clear victory—support for the measure topped off at 217—turned to defeat. It failed 212 to 213. Democrats, who voted unanimously, were livid, and chanted "Shame!"
Check 3:40 to watch the boos escalate in this C-SPAN video.
"I was standing in the well," Rep. Steny Hoyer (D-Maryland) said after the controversial vote. "No one came, or no one had the courage to come into the well to change their vote, but not withstanding that, the vote kept changing. Mr. Speaker, from a parliamentary perspective, how is that possible?"
Rep. Glenn Thompson (R-Penn), standing in for House Speaker Paul Ryan, declined to answer the question, saying it had nothing to do with parliamentary procedures.
Hoyer eventually withdrew his demand for a re-vote.
The amendment in question would've tweaked a defense authorization bill that Dems say would allow institutions to discriminate against LGBT people. It would work by withholding funds from federal contractors who break an executive order not to discriminate. Supporters of the bill as it is say it maintains protections for religious freedom.
The amendment sponsor, Rep. Sean Patrick Maloney (D-NY), blamed at least one Republican honcho for the debacle. He said Majority Leader Kevin McCarthy (R-Calif) strong-armed several congressmen who initially voted for the amendment.
"I said, 'What are you doing?'" Maloney told The Hill. "'You can let this go. Your own members are supporting it.' And he said, 'Get back on your own side of the aisle.' And I said to him, 'What side of the aisle am I supposed to stand on to support equality?'"
Speaker Ryan claimed he didn't know about anyone getting strong-armed.
"I don't know the answer," Ryan told reporters, according to The Hill. "I don't even know." He criticized the amendment, saying it was an overreach of federal authority into state matters.
–
Follow Alberto Luperon on Twitter (@Alberto Luperon)
Have a tip we should know? [email protected]