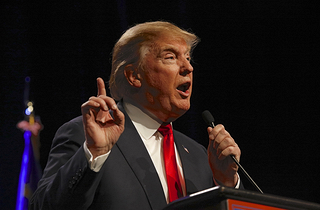 On Wednesday, Donald Trump announced he would soon be updating and nearly doubling his list of potential Supreme Court nominees. Today, Chuck Todd and Alexandra Jaffe of NBC News got ahold of and tweeted the list of additional SCOTUS candidates. Since the list went public, a few picks have received particular social media attention.
One of those is Senator Mike Lee, the junior senator from Utah, who is on the Senate Judiciary Committee. What jumps out about Senator Lee is that back in May,  he told the Washington Examiner that "I have some concerns with [Trump]. He scares me to death; so does Hillary Clinton. There is no easy choice right now." UPDATE: Lee's spokesperson told Politico that he's not interested. Not that this should surprise anyone, all things considered.
There is the only one woman on the new list released today. In fact, Judge Margaret A. Ryan is one of only four women on Trump's overall list.  She's been on the bench for the U.S. Court of Appeals for the Armed Forces for 10 years and served in the Marines during the Gulf War.
The lack of women on the list is sure to play into the ongoing narrative about Trump and his popularity among women. The results of a McClatchey poll released Friday showed that 67% of female voters have an unfavorable opinion of Trump.  Hillary Clinton's campaign also unveiled a new television commercial focusing on Trump's statements about women:
Have a tip we should know? [email protected]