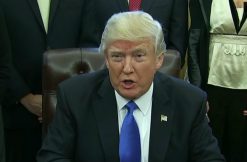 Reports from NBC and other outlets say that Donald Trump's Friday executive order on immigration wasn't vetted by his legal experts. At least, not the ones that presidents usually rely on.
Trump WH shielded ban order from "formal review by NSC lawyers, or by any agency, including DoD"

several sources tell @KenDilanianNBC

— Ari Melber (@AriMelber) January 29, 2017
senior DHS official tells @NBCNews that career professionals at State/DHS had no input on directives. now scrambling to interpret/implement

— John Harwood (@JohnJHarwood) January 28, 2017
senior Justice official tells @NBCNews that Dept had no input. not sure who in WH is writing/reviewing. standard NSC process not functioning

— John Harwood (@JohnJHarwood) January 28, 2017
And here's one more note from a Politico reporter.
Minor example of weak vetting of Trump EOs: anti-terror one cites wrong provision of fed immigration law 8 USC 1222. Means 1202. Whatev!

— Josh Gerstein (@joshgerstein) January 28, 2017
On Friday, the U.S. Justice Department declined comment to NPR as to whether its Office of Legal Counsel reviewed any of Trump's EOs. The OLC typically provides legal advice to the President and executive agencies. Two sources with the State Department told The New York Times in a Saturday report that leaders with Customs and Border Protection, and Citizenship and Immigration Services were getting briefed on the order right as the president signed it.
The president's controversial policy bans immigration from seven Muslim-majority nations for 90 days. It stops a refugee admissions program for 120 days (indefinite in the case of Syria). However, a federal judge in Brooklyn issued a partial stay on Saturday night for anyone with visas, and in transit or already on American soil. Other judges made similar rulings in Massachusetts, Washington state, and Virginia.
This defeat may signal a weak future for Trump's executive orders and policy, says Constitutional law Professor Jonathan H. Adler. He references the NBC, Times, and NPR reports when making the claim.
Now, Alder actually argues that the policy, "under normal circumstances" is lawful based on precedent, and would survive a judge's scrunity.
That is, I believe the executive branch may decide to identify specific countries from which immigrants and others seeking entry into the country must receive "extreme vetting" and that the President may order a suspension of refugees from particular places (as Obama did with Iraq in 2011).
He says the policy doesn't even "come anywhere close" to instituting a Muslim ban. But for Adler, the problem is whether government lawyers could prove to judges that their side performed due diligence when implementing policy.
When Department of Justice attorneys go into court to defend the policy, they will not be able to maintain that this policy reflects careful review of the relevant security concerns or that administration lawyers gave due consideration to potential objections and relevant legal or constitutional constraints on the executive branch's conduct. They won't be able to say those things because they are not true — and judges will notice. Issuing orders that can upend people's lives without conducting the most basic review is practically the definition of "arbitrary and capricious" government action.
In the Times article, White House aides claimed the State Department and homeland security officials were consulted about the order. "Everyone who needed to know was informed," one aide reportedly said.
Meanwhile, the president says the EO is working great.
"It's working out very nicely," he told reporters on Saturday. "You see it at the airports. you see it all over." He later made this tweet, though he didn't directly reference any of the rulings:
Our country needs strong borders and extreme vetting, NOW. Look what is happening all over Europe and, indeed, the world – a horrible mess!

— Donald J. Trump (@realDonaldTrump) January 29, 2017
[h/t Lawfare]
[Screengrab via CNN]
Have a tip we should know? [email protected]