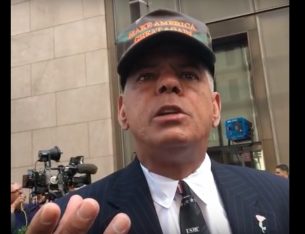 A Donald Trump advisor admitted during a recent radio interview that he spoke with the United States Secret Service regarding comments he made about Hillary Clinton.
Al Baldasaro, a New Hampshire state representative and Trump advisor, in July said Clinton "should be put in the firing line and shot for treason."
Baldasaro made an appearance on Liberty Roundtable radio where he admitted the Secret Service contacted him about those remarks.
"Anyways, the Secret Service called me on the phone from Manchester, and I'm in a hotel now with Secret Service, and I'm with Donald Trump at the convention, and I'm in the same hotel with Trump," Baldasaro said.
He further explained, "He told me straight up, 'I listened to it. There was nothing there, but I have to ask you a question. Do you feel like killing Hillary Clinton?' I said 'No. Of course not. We're a nation of laws. I stated an opinion.' As far as I'm concerned, it's over and done with."
LISTEN:
Baldasaro stood by his prior remarks and insisted they simply misunderstood.
"I, as an American, had an opinion, OK, on somebody that I believed had the broke the law, that put my fellow veterans and police, special agents, spies in other countries in danger," he explained, referring to Clinton.
He then said some of his critics assumed he meant the sentence should be carried out with due process (such as a trial), but he said that is not what he meant at all.
"And they took it to the extent that they read between the lines of what I said. Naturally, you have to go in front of a court and be found guilty. If somebody didn't understand that, then I'm sorry. That's the far-left liberals that were too blind or the progressives, which is the next closest thing to socialism."
Have a tip we should know? [email protected]