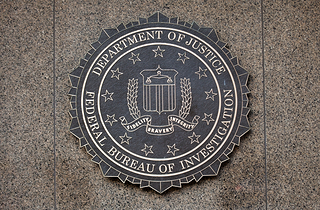 With less than a week to go until the presidential election, one of the dominant topics in the news has been the role of the FBI, especially the Bureau's Director, James Comey. On top of the timing of new developments in Hillary Clinton-related investigations coming just days before election, there's also the wrinkle of  the FBI website releasing old Clinton-related investigation records during the same window. Now, according to a report from ThinkProgress, the FBI's Inspection Division and Office of Professional Responsibility is now investigating if employees are violating federal law and FBI policies by influencing elections.
This story actually goes back a few weeks further than it may appear on the surface. The document release that got the most attention was the Clinton Foundation file (specifically dealing with Bill Clinton's presidential pardon of donor/fugitive Marc Rich on his last day in office) that was posted on Wednesday and announced with this tweet:
Besides the timing of this being dropped seven days before the election, there was another aspect of the story that drew attention. The Twitter account had been inactive for over a year until resuming activity early Sunday morning, when in one minute, the account tweeted 20 times, catching it up to everything on the Vault website's "Recently Added" page. In a statement, the FBI explained the postings this way:
The FBI's Records Management Division receives thousands of FOIA requests annually which are processed on a first in, first out (FIFO) basis. By law, FOIA materials that have been requested three or more times are posted electronically to the FBI's public reading room shortly after they are processed. Per the standard procedure for FOIA, these materials became available for release and were posted automatically and electronically to the FBI's public reading room in accordance with the law and established procedures.
Clinton spokesman Brian Fallon wasn't buying it:
While it's believable that the Clinton Foundation file is frequently requested, the timing of the posting is what drew speculation, not the posting in and of itself. This all led to a complaint being filed by Jonathan Hutson, a journalist turned communications specialist based in Washington, DC who describes himself as a "strategic communications consultant working miracles on a shoestring."
[Photo: Shutterstock]
Have a tip we should know? [email protected]