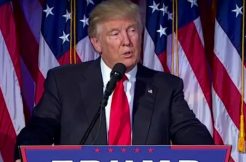 On Thursday, Federal Judge Gonalzo Curiel denied Donald Trump's attempt to get his campaign statements barred from an upcoming fraud trial. Former students are suing the president-elect over Trump University, calling it a scam.
The judge agreed with the plaintiffs that the defense's attempt to get campaign statements barred was just too vague.
Citing concerns of relevance, unfair prejudice, and improper character evidence, Defendants move to exclude "evidence and argument relating to statements made by or about Mr. Trump outside of the adjudicative process." (Dkt. No. 524 at 3–8.) Defendants list fifteen broad categories of evidence that they wish to exclude. (Id. at 4.) Plaintiffs oppose, arguing that Defendants' motion is vague and premature, and that various categories of evidence Defendants move to exclude are relevant and not unfairly prejudicial. (Dkt. No. 549 at 3–11.) Defendants have not identified specific evidence that they wish to exclude. Accordingly, the Court declines to issue a blanket ruling at this time and is prepared to DENY Defendants' motion without prejudice. Defendants may renew their objection to specific testimony at trial.
It's a tentative rejection, however, and defense lawyers are free to make new objections later on.
"Counsel are advised that the Court's rulings are tentative," Curiel wrote. "The Court will entertain additional argument at the hearing on November 10, 2016.
You can read the full notice here:
Notice of Tentative Ruling by LawNewz on Scribd

[Screengrab via ABC News]
–
Follow Alberto on Twitter (@Alberto Luperon)
Have a tip we should know? [email protected]