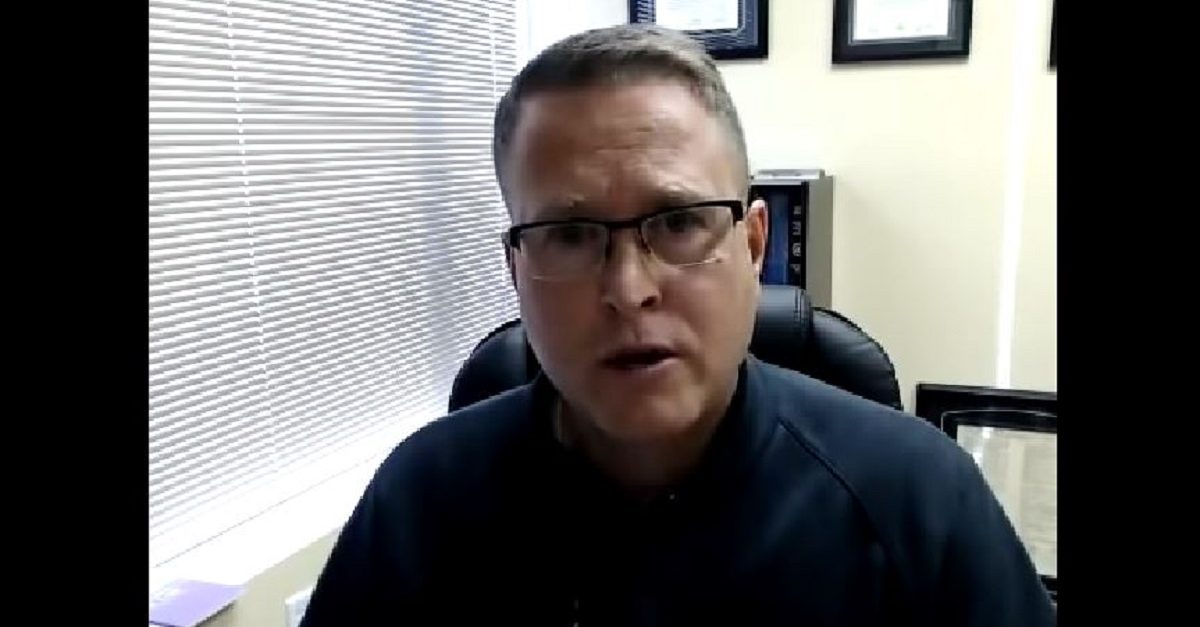 Washington State Rep. Matt Shea (R-District 4a) has drawn the attention of the public, media, and law enforcement after a document associated with him was leaked, titled "Biblical Basis for War." The four-page outline, being described by local press as a "manifesto," cites sources from the Old and New Testament to show why and how to go to war, according to the Bible. The local sheriff saw a copy about six weeks ago and took immediate action.
"I gave it straight to the FBI," Spokane County Sheriff Ozzie Knezovich told the local Spokesman-Review. NBC affiliate KHQ reported that the FBI and Joint Terrorism Task Force said they are investigating it.
The document gives details such as when to go to war ("When God says its [sic] time"), and what is needed to have a "Holy Army." It also describes "terms of justice and righteousness" for accepting surrender. Those include: no abortion, same-sex marriage, communism, no idolatry or occultism, and those surrendering have to follow the Bible. As for enemies who don't agree to these terms? "If they do not yield – kill all males," it says.
The Republican Shea addressed the document in a video address on Wednesday, and made it very clear that he was not hiding from this or trying to distance himself from it.
"It wasn't secret. I want to make sure that's underscored," he said. He admitted to distributing it, and explained that the document is not itself a call to war, but "a summary of a series of sermons on biblical war in the Old Testament."
Sheriff Knezovich was not convinced that this was a harmless Biblical exercise.
"The document Mr. Shea wrote is not a Sunday school project or an academic study," he said. "It is a 'how to' manual consistent with the ideology and operating philosophy of the Christian Identity/Aryan Nations movement and the Redoubt movement of the 1990s." Sheriff Knezovich explained that Shea has been linked to right-wing activists and how he visited the armed occupiers of the National Wildlife Refuge in Oregon in 2016.
"The goal of these groups has always been to create a white homeland consisting of Idaho, Montana, Wyoming, Oregon and Washington," the sheriff told the Spokesman-Review. "The ideas presented in the (biblical war) document are how these groups intend to seize control, by force, should there be a governmental collapse or civil war.
Shea's campaign donors are not happy about this document. A spokesperson for AT&T, which had given money to the campaign, said in a statement:
We have reviewed the news reports and the document, and have concluded that Rep. Shea's statements are divisive and do not reflect our core values of inclusion and equality. We will not be making any future contributions to Rep. Shea's campaign and will ask that he return the $1,000 we contributed to his campaign earlier this year.
The Washington Association of Realtors also requested a refund on their $2,000 contribution, and said they want their name taken off any campaign materials.
Shea is running against Democrat Ted Cummings, after they took the top spots in the state's primary, in which the top two candidates advanced to the general election. In that primary, Shea received 57.4 percent of the votes.
[Image via YouTube screengrab]
Have a tip we should know? [email protected]