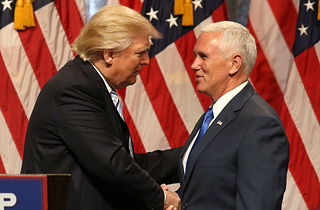 The Government Accountability Office wrote a letter to two top Democratic lawmakers last week, informing Sen. Elizabeth Warren and Rep. Elijah Cummings that it plans to "examine the 2017 presidential transition" as the result of a letter the two wrote to the GAO comptroller general back in November.
The letter sent by the lawmakers last year asked the GAO "to conduct a review of President-Elect Trump's taxpayer-funded transition" . . . due to concerns about reports of 'disarray 'within a 'chaotic' transition."  The letter also sought a review of reported concerns regarding potential conflicts of interest in Trump's financial holdings, family participation in the transition and reports of foreign contacts with Trump tradition officials.
Additionally, the lawmakers' letter referenced having "significant questions about the extent to which Mr. Trump's conflicts of interest and other problems are affecting his transition are compromising the use of taxpayer funds."
The GAO formally responded earlier this month, but Sen. Warren did not provide a copy of the letter until Tuesday. The GAO letter states that having spoken with staffers for both lawmakers back in February, they planned "to complete our work and send a draft product to the agencies for comment in June 2017."
The GAO response also outlined the four areas they plan to address in their review, essentially saying they plan to review the applicable laws regarding Presidential Transitions and make recommendations based on the findings.  They will also include the Vice Presidential Transition procedures in their review.
A formal report from the agency is expected in June.
[image via screengrab]
Have a tip we should know? [email protected]