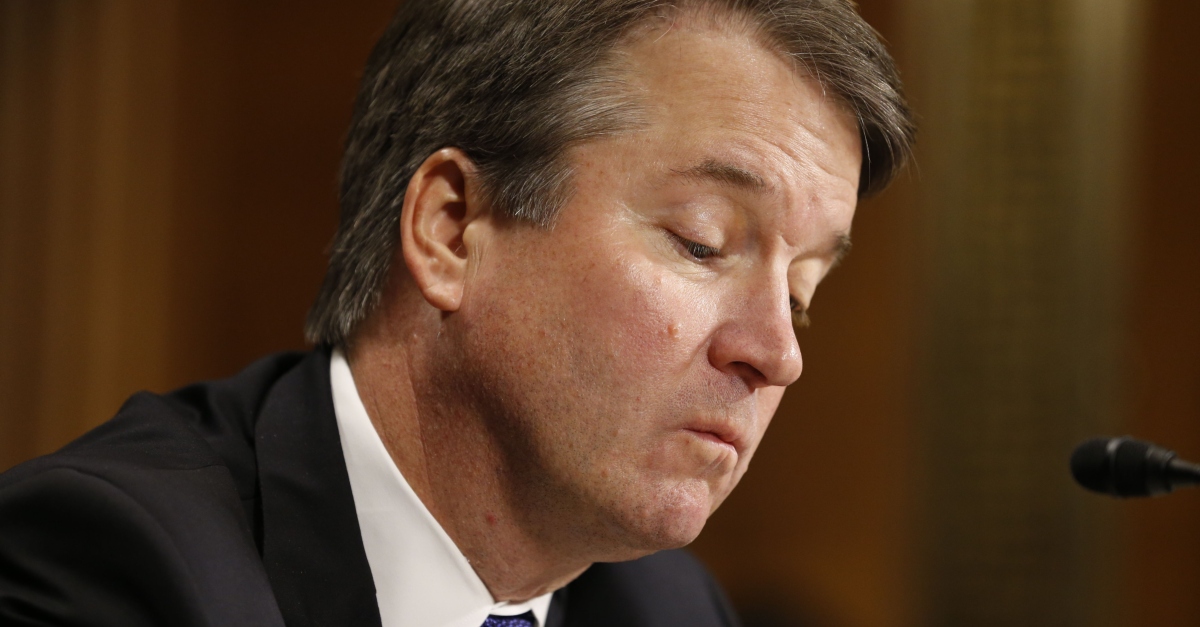 A former FBI agent says the Bureau's investigation into Supreme Court nominee Brett Kavanaugh is already going outside the normal limits of a typical background check.
"It's extraordinary," Andrew Bringuel told Law&Crime in a phone interview Sunday. Bringuel worked as an FBI Agent Supervisor Instructor and Researcher at the FBI Academy's Behavioral Science Unit.
Kavanaugh has been through multiple background checks before, but these didn't go back further than 10 years, or before the applicant turned 18, Bringuel said. Dr. Christine Blasey Ford claimed that the Supreme Court nominee sexually assaulted her at a party when they were both minors in the early 1980s. Kavanaugh's friend Mark Judge was also there, she said.
Multiple reports this weekend showed that according to sources, the White House was placing limits on the FBI's probe into Ford's allegations, and other claims. NBC, in particular, wrote that the FBI would not be able to ask for Judge's employment records from a supermarket where he formerly worked. Ford suggested in testimony Thursday that this could've corroborated her account.
Two sources familiar with the investigation also said the FBI wouldn't be able to look at why Kavanaugh's account of his drinking at Yale contradicted his classmates' recollections that he drank a lot. Another woman, Deborah Ramirek, said a drunk Kavanaugh showed her his penis during a party years ago.
A third woman, Julie Swetnick, wasn't on a list of people to be interviewed, sources said. She said Kavanaugh and Judge were there when she was drugged and gang-raped, also in the early 1980s.
Trump pushed back on the NBC report, saying there's no limits in the probe.
NBC News incorrectly reported (as usual) that I was limiting the FBI investigation of Judge Kavanaugh, and witnesses, only to certain people. Actually, I want them to interview whoever they deem appropriate, at their discretion. Please correct your reporting!

— Donald J. Trump (@realDonaldTrump) September 30, 2018
According to NBC, sources said this tweet changed nothing. There were still limits on the probe.
Bringuel told Law&Crime that the ongoing probe already goes outside the normal limits.
"[The White House] can create the scope any way they like," he said. Furthermore, there's only so much the FBI can do.
For example, Judge's former employers could decline to give over his employment records beause of liability issues, Bringuel said. The FBI couldn't force them to hand it over, either. The agency lacks the ability to get a subpoena because this is not a criminal investigation. Congress could do it, he said.
How would Bringuel handle the investigation? He suggested it would be more appropriate for Maryland authorities to look into Ford's sexual assault allegation, assuming she files a complaint. Bringuel said, however, that it would be relevant to the FBI to look into if Kavanaugh were lying about ever being black-out drunk. This could show if the Supreme Court nominee was lacking candor in his answers to Congress, he said.
He pointed out that former FBI Deputy Director Andrew McCabe was fired for lack of candor when answering questions about past behavior.
"Similarly, the role of the Judiciary Committee in terms of advise and consent is to look at competencies and character," Bringuel wrote in a follow-up email. "A person may be capable of doing the job but maybe dishonest, lack candor, or have bad character. Even the narrow scope investigation is not a criminal investigation. If it was, the FBI could get subpoenas for records. … The FBI's supplemental investigation should look at the allegations of sexual assault or alcohol abuse in context of honesty, candor, and character."
[Image via MICHAEL REYNOLDS/AFP/Getty Images]
Have a tip we should know? [email protected]