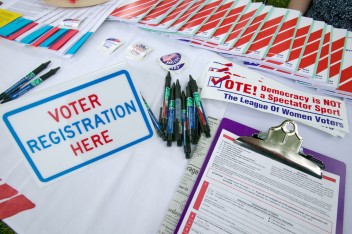 A federal judge in Florida has granted an additional extension to the state's voter registration deadline, giving potential voters another week to sign up to cast ballots in the November 8 election.
The Florida Democratic Party filed a lawsuit over the weekend asking the U.S. District Court Judge Mark Walker to extended the voter registration deadline because of Hurricane Matthew.  Florida Governor Rick Scott had denied the request to extend the deadline, saying he was prohibited from doing so under state law.
On Tuesday, Judge Walker initially extended the deadline to October 12.
The Associated Press reports Judge Walker has now entered a new order after a hearing on Wednesday morning that further extends the deadline to October 18.
A spokesperson for Gov. Scott's office told the AP they would accept the court's decision.
Have a tip we should know? [email protected]