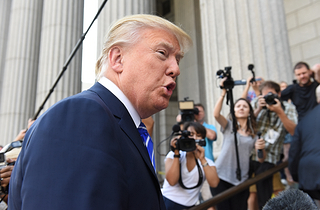 Like many Donald Trump stories, the latest one begins with a tweet. This time, the story kicked off on Tuesday morning, just before 9:00 a.m. ET with the following tweet from Trump:
Boeing is building a brand new 747 Air Force One for future presidents, but costs are out of control, more than $4 billion. Cancel order!

— Donald J. Trump (@realDonaldTrump) December 6, 2016
The President Elect of the United States expanded on his first tweet as he was leaving Trump Tower:
President-elect Trump on his desire to cancel Boeing's Air Force One order: "We want Boeing to make a lot of money, but not that much money" pic.twitter.com/kIdpCy0JuX

— CNN (@CNN) December 6, 2016
"The plane is totally out of control. It's going to be over $4 billion for Air Force One program and I think it's ridiculous," he said. "I think Boeing is doing a little bit of a number. We want Boeing to make a lot of money, but not that much money." Trump's figures are somewhat off from government estimates (see page 166), which place the cost at about $3.21 billion from 2010 through 2020. That includes about $1.99 billion of research and development. According to a report from CNN Money, the new planes have not yet been ordered by the United States Air Force.
Boeing stock is down$ 1.09 (0.72%) to $151.07 per share as of this writing. In May, when Trump filed his financial disclosure for the presidential election, he owned somewhere between $50,000 and $100,000 in stock in the aerospace company. He has also tweeted about his interest in the company in the past:
.@Boeing stock went way down because of 787- so I just bought stock in @Boeing– great company!

— Donald J. Trump (@realDonaldTrump) January 17, 2013
[Photo: Shutterstock]
Have a tip we should know? [email protected]