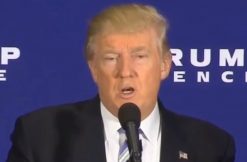 On Saturday, Republican presidential nominee Donald Trump told supporters that he'll sue over the recent sexual assault claims. Later.
"All of these liars will be sued after the election is over," he said at a rally in Gettysburg, Pennsylvania. He was talking about the women who've publicly put forward the allegations, though he didn't mention them point for point.
On October 7, a tape surfaced of Trump saying that he kissed women and grabbed their privates without consent. This got a lot of attention because these actions can meet legal standards of sexual assault. During the October 9 presidential debate, he denied ever committing such a crime, but soon after, The New York Times, The Palm Beach Post, and PEOPLE magazine published stories about women who said Trump did in fact grope and kiss them without permission. And these aren't the only sexual assault and misconduct claims against him.
On October 13, a Trump lawyer sent a cease-and-desist letter to the Times about their story. In reply, an attorney for the paper straight up dared them to sue. So how would a defamation lawsuit go? Law Newz columnist Elura Nanos has looked into this, and said that such a complaint is at an immediate disadvantage and would likely fail:
In a lawsuit against The New York Times as a republisher of a "false" story, plaintiff Trump would have to prove not only that the allegations are false, but that the Times acted with "actual malice" against him when publishing them.
Update – October 22, 12:55 p.m. EST: Added information on the likelihood of a successful lawsuit.
[Screengrab via Right Side Broadcasting]
–
Follow Alberto on Twitter (@Alberto Luperon)
Have a tip we should know? [email protected]