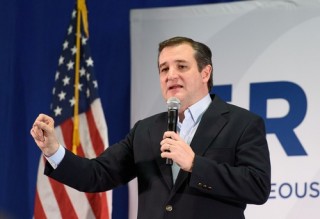 LawNewz.com has confirmed that volunteers with the Ted Cruz campaign are working to get the four unpledged delegates in Colorado to sign a form committing their support for Ted Cruz. Cruz has already secured the 30 other delegates in the state.
"I'm hoping they will sign it. I am anticipating that they will," Regina Thomson told LawNewz.com. Thomson serves as the Grassroots Director for Cruz Campaign in Colorado. "My intention is to go back to them and get them to sign the intent form  — to show unity for Ted Cruz."
The Colorado Caucuses have been the subject of much scrutiny lately by Donald Trump. Cruz won 30 pledged delegates who are bound to vote for him during at least the first ballot at the Republican National Convention in Cleveland. The remaining four are unpledged. That means they can vote for anyone they want — though some have verbally pledged their support for Cruz.  Trump shot off a series of tweets over the weekend claiming that the Colorado process was rigged.
The people of Colorado had their vote taken away from them by the phony politicians. Biggest story in politics. This will not be allowed!

— Donald J. Trump (@realDonaldTrump) April 11, 2016
Over the weekend, Trump's newly hired delegate coordinator Paul Manafort accused the Cruz campaign of using 'gestapo-like' tactics to win votes. This recent admission by the Cruz grassroot coordinator to LawNewz.com may only add more fuel to the Trump campaign's contention that the caucus was unfair.
In Colorado, in order to run to be a delegate, you must sign an 'intent to run' form. On that document, you must either indicate your support for a presidential candidate or check the unpledged box.  The form says you must submit it "no later than 13 days prior" to the state convention that you intend to run in. In Colorado, 30 delegates have signed their allegiance to Ted Cruz. The other four had initially checked the unpledged section. Cruz organizer, Thomson, says she is hoping to get those four unpledged delegates to sign the document even though the apparent deadline has expired. She says the move would be more of  a sign of solidarity for Cruz. It is not clear if under the rules their signature would be binding.
"I don't know if it's legally binding…for me personally it's binding, because I made that commitment to that pledge," Thomson said.
Republican delegate expert, Josh Putnam, explained the importance of this 'intent to run' form in his blog:
[t]hey are functionally locked in with that candidate if that candidate is still in the race for the Republican nomination…They would be bound to those candidates at the national convention because the Colorado Republican Party bylaws instruct the party chair to cast the delegation's votes at the national convention "in accordance with the pledge of support made by each National Delegate on their notice of intent to run"
The Colorado GOP (which says they are the official account of the Colorado Republican Committee) retweeted a message brushing off any claims the process was rigged:
This claim by Drudge is a lie. We CO Republicans voted at precinct caucuses for delegates who voted at conventions. pic.twitter.com/T2GBPI0QaI

— Ari Armstrong (@ariarmstrong) April 11, 2016
Have a tip we should know? [email protected]
Rachel Stockman - Editor in Chief / On Air Host