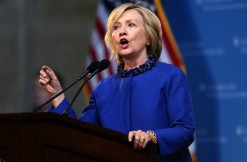 The Hillary for America campaign has been accused of leeching funds from "low-income" donors. These supporters initially gave small, one-time donations, but they keep getting hit with multiple charges of anywhere up to $100.
A report from The Observer lays out the claim.
Minnesota woman Carol Mahre, 81, said she made a one-time gift of $25 to Hillary Clinton's presidential campaign. Back in June, she spoke with Kare11, and told them she saw some shady charges on her statement at U.S. Bank. The campaign took multiple charges totaling about $100. Her son, attorney Roger Mahre, told The Observer that things didn't get fixed even after he reached the campaign by phone; his mom was charged again the day after the call. So he filed a fraud report with the Minnesota Attorney General's Office, run by Lori Swanson, a Democrat.
The Observer said they had a source from the Wells Fargo fraud department. This person, who wanted to stay anonymous for the sake of job security, claimed they got "up to a hundred calls a day from Hillary's low-income supporters about multiple unauthorized charges." This has been happening since Spring, with donors getting hit with multiple charges under $100.
"We don't investigate fraudulent charges unless they are over $100," the source said. "The Clinton campaign knows this, that's why we don't see any charges over the $100 amount, they'll stop the charges just below $100. We'll see her campaign overcharge donors by $20, $40 or $60 but never more than $100."
Attempts to permanently sort this out with the Clinton campaign have failed, the source said, and the bank must refund between $700 and $1,200 a day.
The Observer said they contacted the Minnesota attorney general, and were told Mahre's complaint was forwarded to the Federal Election Commission. But when they asked the FEC about it, they were told there was no record of the case.
Judith Ingram, Press Officer for the FEC, gave us this answer in a Monday email: "We cannot confirm receipt of the complaint you reference."
We reached out the Minnesota AG, and Clinton campaign for comment, and will update when we hear back.
It's worth mentioning this story also carries a disclaimer: "Donald Trump is the father-in-law of Jared Kushner, the publisher of Observer Media." Trump, whose daughter Ivanka married Kushner, is the Republican Party nominee for president, while Hillary Clinton is the Democratic candidate.
[image Trevor Collens and Shutterstock]
Update – September 17, 6:17 p.m.: We've reached out to the Clinton campaign for comment.
Update – September 19, 9:31 a.m.: We've added a response from the FEC.
–
Follow Alberto Luperon on Twitter (@Alberto Luperon)
Have a tip we should know? [email protected]