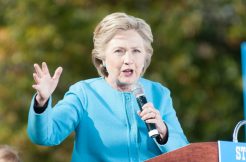 Before November 8, the consensus was that Hillary Clinton would win the presidential election. That wasn't the case, though. The Washington Post reports that Clinton blamed it on FBI Director James Comey.
"There are lots of reasons why an election like this is not successful," Clinton told campaign donors during a conference call on Saturday. "But our analysis is that Comey's letter raising doubts—that were groundless, baseless, proven to be—stopped our momentum."
On October 28, the FBI Director told Congress members that he was tentatively reopening the investigation into Hillary Clinton's mishandling of work-related emails as Secretary of State. He had declined to recommend charges back in July, but then potentially relevant emails reportedly popped up when the feds were investigating disgraced politician Anthony Weiner for allegedly sexting an underage girl. Weiner's estrange wife, Huma Abedin, is well as known as Clinton's right-hand woman.
But Comey later announced that nothing came of their new probe.
FBI Dir Comey letter to congress on unchanged recommendation regarding Clinton emails. pic.twitter.com/dRIUaqLYeQ

— Katy Tur (@KatyTurNBC) November 6, 2016
Comey was slammed by both Democrats and some Republicans for the first letter's timing, but it still caused Clinton plenty of bad press. She said that damaged her campaign's momentum.
"We dropped, and we had to keep really pushing ahead to regain our advantage—which going into the last weekend, we had," she said. We were once again up in all but two of the battleground states, and we were up considerably in some that we ended up losing. And we were feeling like we had put it back together."
Ironically, she said the second letter actually hurt her because it stirred supporters of opponent Donald Trump.
"Just as we were back up on the upward trajectory, the second letter from Comey essentially doing what we knew it would—saying there was no there there — was a real motivator for Trump's voters," she said.
Since late August, polls widely suggested that Clinton would be the 45th President of the United States, even though the email scandal plagued her campaign.
"I am heartbroken," she said. "I'm not going to pretend otherwise. This is a very, very tough loss and especially because everyone worked so hard."
[image via Andrew Cline and Shutterstock]
–
Follow Alberto on Twitter (@Alberto Luperon)
Have a tip we should know? [email protected]