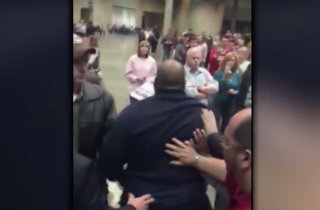 On Monday, Black Lives Matter activists Mercutio Terrell Southall, Sr. and Carlos Montez Chaverst, Jr. filed a lawsuit against both Donald J. Trump for President, Inc. and the Birmingham Jefferson Convention Center in Alabama, alleging that they were beaten by an "angry mob" at the venue in November. The complaint cites the below video (skip to 2:55 for the relevant portion) as including footage of the incident in question.
The plaintiffs allege that a white Trump supporter slapped the phone out of Chaverst's hand as he recorded video. When Chaverst objected, the other man "responded with obscenities and referred to your Plaintiff, Chaverst as 'boy' and stated he could do whatever he wished to someone like your Plaintiff."
When Southall joined Chaverst and tried to escort him to safety, they were surrounded, at which point it's alleged they were kicked and pushed by Trump supporters who were yelling racial slurs and various obscenities. The situation escalated, and Southall was shoved to the ground, where he says he was "kicked, choked, shoved, punched, scratched and referred to as nearly every racial slur known." Trump, having taken notice of the melee, started to repeatedly tell security and his supporters to "get him the hell out of here"
After referring to the history of racial violence I'm Alabama and Birmingham , the complaint cites Trump's offers to pay the legal fees of supporters charged with assault of protesters and other things he has said to incite people attending his campaign rallies.
The plaintiffs are alleging negligence, breach of contract (they purchased tickets to the event), and violation of constitutional rights. We've reach out to the Trump campaign for comment.
[Photo: CNN YouTube screengrab]
Have a tip we should know? [email protected]