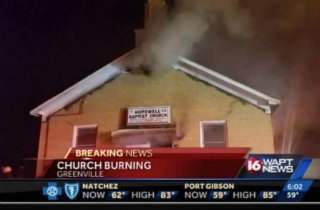 Updated 1:45 p.m. ET: According to WECT-TV's account of the local authorities' press conference, the fire, which caused major damage to the church, is being investigated as a hate crime. Greenville Police Chief Freddie Cannon also referred to the arson and vandalism "a form of voting intimidation." While there is no official suspect yet, police are in touch with a person of interest. The local FBI field office also issued this statement:
The FBI Jackson Division is aware of the situation in Greenville, and we are working with our local, state and federal law enforcement partners to determine if any civil rights crimes were committed.
—
The Hopewell M.B. Church, a local black church, was set on fire Tuesday night  around 11:00 p.m. local time, but not before someone, possibly the arsonist, spray painted "VOTE TRUMP" on the side of the building, according to Mississippi News Now and other outlets in the area. Chelsea Corona of WAPT-TV in Jackson, Mississippi tweeted these photos of the crime scene:
Local authorities were expected to hold a press conference this morning to give further information, and LawNewz will update you as those details become available.
[Photo: WAPT-TV screen grab]
Have a tip we should know? [email protected]