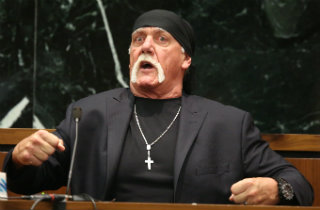 Early this morning, LawNewz was the first to break the news that Hulk Hogan (real name Terry Bollea) and Gawker have come to a settlement agreement. Thanks to a 570 page liquidation plan filed with the bankruptcy court in the Southern District of New York, it's now been confirmed that a settlement has been reached that will pay Hogan $31 million and a percentage of the proceeds from the sale of Gawker Media to Univision. From page 41 the filing:
Under the Bollea Settlement, in full and complete settlement, release, and discharge of, and in exchange for, the Bollea Claims, including the $130.0 million Bollea Judgment and the waiver of Bollea's claims against third parties that would have Debtor Indemnification Obligations, Bollea will receive $31.0 million Cash from Gawker Media, and a Pro Rata share of Distributions from the Gawker Media Contingent Proceeds Creditor Account.
The note about waiving claims against third parties refers to Gawker founder/publisher Nick Denton and former editor in chief A.J. Daulerio, who were co-defendants in the lawsuit but had indemnification clauses in their employment contracts. This means that both will be free and clear of the lawsuit, though Denton will have to resolve his own bankruptcy now that his major debt is out of the way. In addition, Judge Stuart Bernstein of the bankruptcy court still needs to approve the settlement.
Hogan tweeted this as the news broke:
Denton has addressed the settlement in a post on his personal blog. "Yes, we were confident the appeals court would reduce or eliminate the runaway Florida judgment against Gawker, the writer of the Hogan story and myself personally," he wrote. "And we expected to prevail in those other two lawsuits by clients of Charles Harder, the lawyer backed by Peter Thiel," who was funding the legal expenses for Hogan and others to get back at Gawker for writing about his sexual orientation. Why the change, then? Denton says that "all-out legal war with Thiel would have cost too much, and hurt too many people, and there was no end in sight" due to his pledge to support Hogan for as long as it took.
Julia Marsh of the New York Post tweeted a different explanation:
She also had this additional item about the settlement talks:
Denton noted in his blog post that he was was frustrated by how the settlement will require the deletion of not just the post about Hogan that led to the lawsuit, but also the ones that led to two other cases that are still in the pre-trial phase. Shiva Ayyadurai (subject of articles about his claims that he invented email) will get $750,000 while Ashley Terrill (subject of an article about her pursuit of an expose on Tinder executives) will receive $500,000. Gawker writer Tom Scocca appeared to be none to pleased with these developments, as well as how they affect employees who were granted shares in the company:
[Photo: Pool Photo]
Have a tip we should know? [email protected]