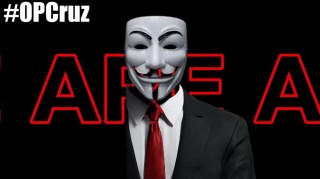 About a week prior to The National Enquirer publishing a scandalous story claiming that Ted Cruz had affairs with five mistresses (which he says are garbage allegations and false), an online group threatened to reveal Cruz's dirty secrets if he didn't get out of the race. They claim to be from the hacker group, Anonymous, though, LawNewz.com has not been able to independently verify that. Some rumors are swirling that the video could be from an impostor group. What we can verify is that the threats appeared to be released days prior to the publication of the Ted Cruz alleged affair story in the tabloid. Note the time stamp on these tweets:
#CruzOP #OPCruz
•Anonymous Group Targets, Ted Cruz
For Lying & Cheating.

•Please Watch Below: https://t.co/nnjI2eVXw8

— Truth Disciple (@GLizzyg7) March 16, 2016
Anonymous says they'll release the name of Ted Cruz's prostitute in 24 hours .. Why wait who wants the name right now? #OPCruz

— CDM (@RWSurferGirl1) March 16, 2016
Obviously, it is unclear if the article and the video are connected in any way, but the timing is interesting nonetheless. Here is the video the group posted:
In the video, the group says, "You, Mr. Cruz, have been hiding behind some very dirty secrets that lie beneath the surface, secrets that you believe would never haunt you. But as you should know by now, Mr. Cruz, we are anonymous, we expose the fraud…It's time that America knows your deep and dirty secrets. We have done our homework, Mr. Cruz…It's time that we tell America what is hiding behind the curtain."
They also say if Cruz doesn't drop out in his run for the presidency that they will reveal the "so-called underground acts that you think were done in the dark will be brought out for all the public to see. It will be sent to every media outlet to publicize your disgusting behavior."
The group calls their mission #OpCruz.
Have a tip we should know? [email protected]
Rachel Stockman - President / On Air Host