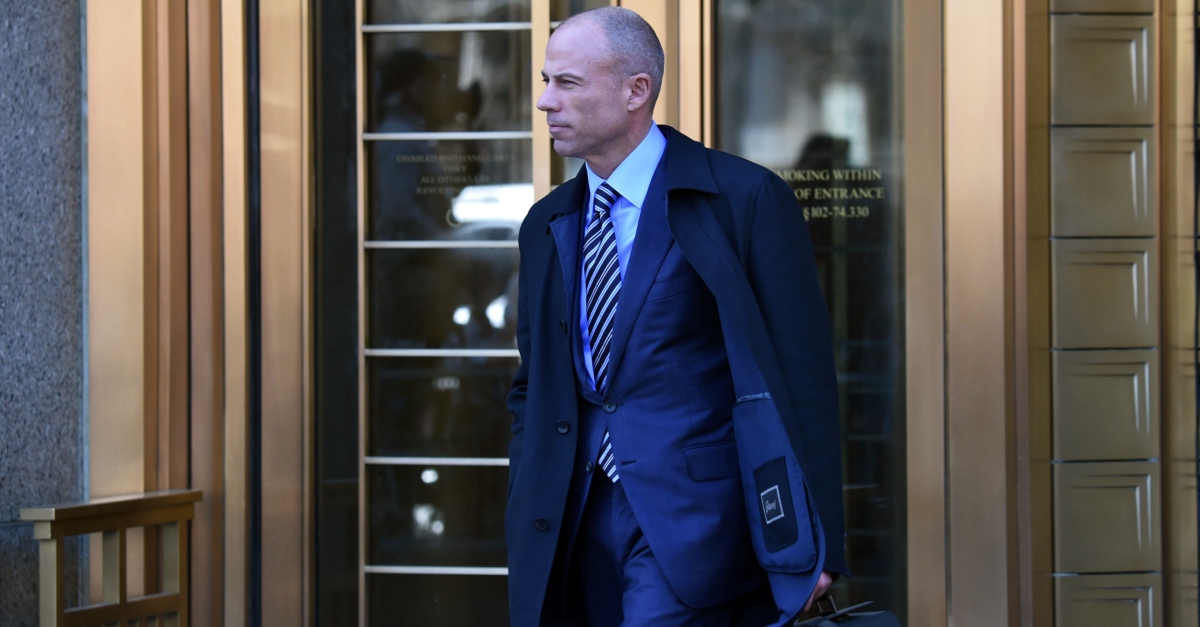 Attorney Michael Avenatti pushed back Saturday on the idea that he and his client Julie Swetnick enabled the confirmation of new Supreme Court Justice Brett Kavanaugh.
In other words, @SenatorCollins did not believe ANY of the accusers as it relates to Brett Kavanaugh's conduct. This is outrageous – they were not all lying. This should also put an end to the nonsense of blaming me and my client for the outcome. #Basta https://t.co/5ghuACRZ57

— Michael Avenatti (@MichaelAvenatti) October 6, 2018
Swetnick claimed she was gangraped at a party where Kavanaugh and his friend Mark Judge were present. Another woman, Dr. Christine Blasey Ford, said that in an unrelated incident, Kavanaugh sexually assaulted her while Judge laughed and watched. Both men, who would've been students at Georgetown Preparatory School during the alleged incident, pushed back on her account. Deborah Ramirez, a third accuser, said Kavanaugh drunkenly exposed himself to her when they were at Yale. Kavanaugh denied this claim as well.
Ford was the first of the women to speak out, and the one, generally speaking, who got the most respect in the public eye. Her testimony before the Judiciary Committee was well received. Republican politicians were less likely to criticize her, though they generally claimed there was no corroboration for her allegation.
"I believe that she believes what she testified to," Sen. Susan Collins (R-ME) said on State of the Union, but added she doesn't think that Kavanaugh was the assailant.
Swetnick's allegations, on the other hand, wasn't afforded the same polite, albeit dismissive, tone. From Collins' speech announcing her support for Kavanaugh:
Some of the allegations levied against Judge Kavanaugh illustrate why the presumption of innocence is so important. I am thinking in particular not of the allegations raised by Professor Ford, but of the allegation that, when he was a teenager, Judge Kavanaugh drugged multiple girls and used their weakened state to facilitate gang rape. This outlandish allegation was put forth without any credible supporting evidence and simply parroted public statements of others.
If critics didn't take shots at Swetnick's account, they went after her attorney Avenatti, who has voiced interest in running against President Donald Trump in 2020. Here's Sen. John Kennedy (R-LA).
"I think this process changed dramatically when Mr. Avenatti entered the picture," he said on Meet the Press. "I think a lot of people, including many of my Democratic colleagues, felt like we had gotten into the foothills of preposterous."
A New York Times profile about the confirmation used the word "galvanized" to characterize Republicans' response to Avenatti's involvement. A GOP congressional official is quoted as calling the lawyer's involvement "manna from heaven." A Dem counterpart said it was "massively unhelpful." Sen. Dick Durbin  (I-Illinois), the Senate Minority Whip, dismissed the notion that Avenatti's presence definitively influenced the result. He called this "wishful thinking" by the GOP, which had focused on confirming Kavanaugh.
"It's a bunch of nonsense that somehow I had anything to do with the end result here being negative," Avenatti told the outlet, arguing that Swetnick's story leveraged Republicans into requesting an FBI investigation to look into some of the allegations.
But that probe has been criticized for being insufficient. For example, Swetnick said that neither she nor her corroborating witnesses were interviewed.
Below please find a statement from my client Julie Swetnick regarding the Kavanaugh nomination. I urge you to read it. pic.twitter.com/kBHL7cm8Pi

— Michael Avenatti (@MichaelAvenatti) October 7, 2018
President Donald Trump and GOP senators "purposefully prevented any inquiry into my claims and those of other sexual assault victims in the interest of politics," Swetnick said in a statement released Sunday. "They then had the audacity to claim our claims were not credible even though they never allowed any investigation to determine their credibility. How can they say the claims were not credible when they made no effort to discover whether they were or were not?"
The Senate confirmed Kavanaugh 50-48, almost exclusively along party lines. West Virginia's Joe Manchin was the only Democrat to support him.
Note: Updated to include Swetnick's statement.
[Image via Fred Schilling/Supreme Court of the United States via Getty Images]
Have a tip we should know? [email protected]