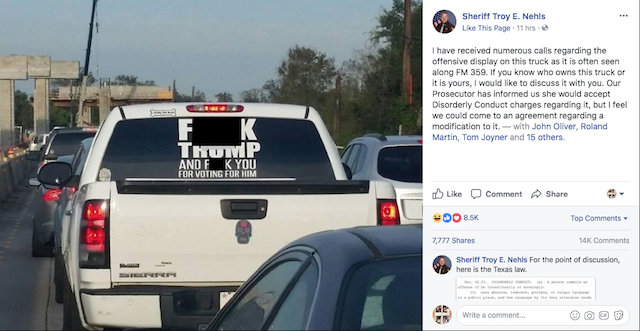 A Texas sheriff is publicly targeting the owner of a pickup truck because of a large anti-Trump bumpersticker on the back window.
Fort Bend County Sheriff Troy E. Nehls posted a Facebook status and photo referencing the truck–a white, GMC Sierra–on the afternoon of Wednesday, November 15. The photo shows a visually bleeped-out image of the truck and the apparently offensive bumpersticker which appears to read, "Fuck Trump and fuck you for voting for him."
In his Facebook post, Nehls wrote:
I have received numerous calls regarding the offensive display on this truck as it is often seen along FM 359. If you know who owns this truck or it is yours, I would like to discuss it with you. Our Prosecutor has informed us she would accept Disorderly Conduct charges regarding it, but I feel we could come to an agreement regarding a modification to it.
As of now, Nehls' post has been shared nearly 10,000 times–achieving virality in fairly quick fashion. The response to the post hasn't been exactly positive, however, as many of the nearly 20,000 commenters have expressed disdain for the sheriff's comments or outright mocked his anti-anti-Trump and anti-swear word campaign.
The top commenter, Joe Scarbrough, wrote, "'Someone got mad' is not a breach of the public peace lmao." Another commenter, Jacqui O Siacailin, wrote:
Right… And liberals are the snowflakes who are always offended… What a bunch of vindictive little babies you are. I'm embarrassed for you. I truly am. Delete this, pretend it never happened, and hope people forget about it after enough time has passed.
But there was at least one supporter among the ranks of the Facebook commentariat. Linzi Bee wrote, "I've seen this truck, and I would pleased [sic] if the owner of this vehicle was prosecuted for disorderly conduct. My children saw this, and I was infuriated they were subjected to this offensive display."
Nehls, who is considering a run for Congress against incumbent Republican Rep. Pete Olson in Texas' 22nd congressional district, began the discussion by posting a link to an image citing part of the Texas statute on disorderly conduct. The referenced portion reads:
(a) A person commits an offense if he intentionally or knowingly:
(1) uses abusive, indecent, profane, or vulgar language in a public place, and the language by its very utterance tends to incite an immediate breach of the peace;
(2) makes an offensive gesture or display in a public place, and the gesture or display tends to incite an immediate breach of the peace
In Texas, disorderly conduct is a Class C misdemeanor and is punishable by a fine of up to $500.
[image via screengrab]
Follow Colin Kalmbacher on Twitter: @colinkalmbacher
Have a tip we should know? [email protected]