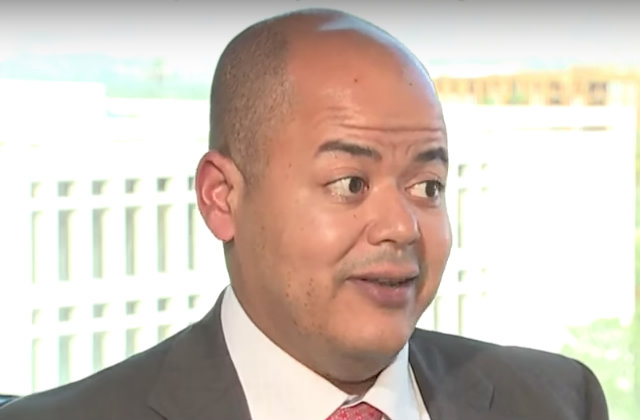 On June 13, 1994, Nicole Brown Simpson and Ronald Goldman were murdered. On February 11, 1997, a jury in a civil trial determined that O.J. Simpson was liable for their deaths, and that he must pay $33.5 million, which has reportedly more than doubled with interest since then. So why is it that Simpson's lawyer, Malcolm LaVergne, continues to antagonize Goldman's family, more than 20 years later.
Earlier this month, the Goldmans' attorney, David Cook, took legal action after Simpson was reported to have held a secret autograph session to make some money. The former football star's earnings are supposed to be subject to seizure to pay off the massive judgment to the victims' families, so when it appeared that he was trying to collect cash without reporting it, Cook sought a hearing to compel Simpson to reveal his assets and pay up. Somehow, though, the Goldmans are the bad guys, according to LaVergne.
Cook's actions prompted LaVergne to go on a tweet storm, in which he chastised the "Greedy Goldmans" for trying to get money that rightfully belongs to them. That was more than a week ago, and it hasn't stopped.
LaVergne went so far as to call Fred Goldman plantation master, likening Simpson's legal obligation to slavery, and even getting into a Twitter feud with Kim Goldman, Ronald's sister. He seemed to take a page from President Donald Trump's book, slapping her with the nickname "Wacky Kim."
Oh and calling my father a Slave Master isn't slanderous …. and all the other lies you've been spreading? You @SinCityAttorney are a special kind of something to be that insensitive. Get off Twitter and stop including me in these disgusting tweets. https://t.co/KJXF66W8EW

— Kim Goldman (@KimEGoldman) November 23, 2017
No, it's not, Wacky Kim. Fair commentary re: Plantation Master Fred's (and your) remarks toward Simpson as a human being with rights under the law. Simpson is no saint, but your actions are specifically designed to dehumanize while profiting at the same time. Hence, slavery. M. https://t.co/5PRvGXIVQk

— Malcolm LaVergne (@SinCityAttorney) November 23, 2017
A quick look at LaVergne's Twitter page will show that he just keeps going, with more and more tweets in the hours prior to this publication. He even started taking shots at Law&Crime founder Dan Abrams, after Abrams criticized his attacks on the Goldmans.
I know Abrams called my office yesterday wanting to interview Mr. Simpson. He's not only a Goldman coddler, he's delusional. He has no talent. His dad and sister have talent. Real lawyers who've had to sweat in this profession. He's all connections and a pretty face. M.

— Malcolm LaVergne (@SinCityAttorney) November 29, 2017
The big question is: why is LaVergne doing this? He talks about how the Goldmans are trying to somehow enslave Simpson by taking money that belongs to them, intentionally ignoring the fact that Simpson continues to collect a hefty NFL pension that is exempt from the judgment. It's not like his client is in the poor house.
LaVergne also accuses the Goldmans of seeking media attention, all while he tweets article after article about his own comments on the matter in blatant self-promotion.
Even if he truly believes that the Goldmans are being greedy, why on earth would LaVergne think it's a good idea to publicly shame a family seeking legally ordered retribution for the death of their son? The matter has been settled. O.J. Simpson was ordered to pay, and the Goldmans want what's coming to them. They have every right to do that, and if they are trying to "dehumanize" Simpson, as LaVergne claims, it would make sense, given that Simpson was found responsible for their son's death.
It also doesn't seem to be in Simpson's best interest for his own attorney to constantly harp on this so much. The man just got out of prison for an unrelated crime. He probably wants to either stay out of the spotlight or rehabilitate his public image. It doesn't help when his lawyer is publicly harping on a double murder from more than two decades ago.
This online feud with the Goldman family really doesn't seem to serve any purpose at all. Of course, LaVergne may disagree, since we're all talking about him now.
Note: This column has been updated to include one of LaVergne's tweets against Law&Crime founder Dan Abrams.
[Image via KTNV screengrab]
This is an opinion piece. The views expressed in this article are those of just the author.