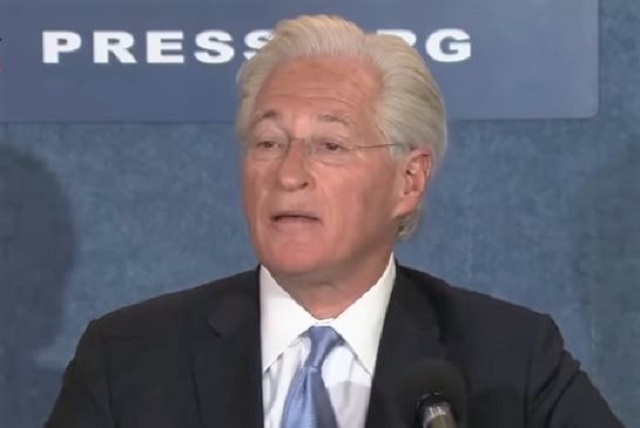 I get that Trump has spent most of his life surrounded by "his people," but most of us expected that once he took office, the entourage might take a back seat. That, however, was B.C.E. – Before the Comey Era. Marc Kasowitz, Trump's go-to lawyer for everything from divorce to bankruptcy, announced yesterday that he'll be filing a complaint with the Inspector General of the Department of Justice in hopes that the DOJ will pursue an investigation against James Comey. If it's unusual for a President to bully government agencies into investigating private citizens, it's downright bizarre to have his attorney do it on his behalf.
Twitter seems to agree:
Nice we've heard from his lawyer, but the country elected Donald Trump, not Marc Kasowitz. The president needs to explain himself. https://t.co/p5A3bGIoiN

— Matthew Miller (@matthewamiller) June 8, 2017
The crux of Kasowitz's impending complaint is the rather impotent allegation that Comey broke the law when he released the contents of his infamous memo to the press. And of course, whether Kasowitz or Trump or anyone else makes a complaint against Comey, it is ultimately up to the Justice Department to take matters from there.
As attorney and national security expert Bradley Moss explained:
It is entirely within the Inspector General's discretion whether to pursue an investigation based on a complaint it received. In theory, the fact that this complaint comes from the President (or from the President's lawyer) could certainly make it different. The IG is obviously going to pay closer attention to this. But that doesn't necessarily mean anything more will come of it if there is not some true merit. Knowing what it seems that Kasowitz will be arguing, this is just a smokescreen.
As I've written before, Trump's attempt to spark what amounts to a retaliatory investigation against Comey is problematic (read "potentially illegal"). But what is the function of having Kasowitz—an outside lawyer, and one who does not even specialize in this area of law – act as a liaison between Trump and his own executive branch? I mean even Vito Corleone only sent Tom Hagen to deal with outside matters – not to strong-arm his own people into doing his bidding. Bottom line: bringing Kasowitz in to this mess simply makes an already bad situation even worse.
In typical situations, there's nothing wrong or even unusual about a private attorney raising concerns with the Inspector General. In the Trump-Kasowitz-Comey triangle, though, things are anything but typical. Given that there are some serious concerns about the legality of encouraging/directing that a federal agency investigate Comey, there may, as one lawyer pointed out, be some risk for Kasowitz himself.
Kasowitz is walking an ethical tightrope and may have crossed the line; a lawyer cannot assist a client in committing a crime or fraud

— Maurice Ross (@MauriceMichael) June 9, 2017
It's worth pointing out that Kasowitz, who has branded himself an "uberlitigator" and the "toughest lawyer on Wall Street" isn't even admitted to practice in D.C. Liaising with the Office of the Inspector General is well out of Kasowitz' area of expertise, which may account for his bravado in declaring his intent to take Comey down. Even if the Inspector General did choose to investigate Comey, and even if it did find that Comey engaged in wrongdoing (two highly unlikely hypotheticals), its remedy wouldn't be much more than blackballing Comey from future DOJ employment.
Kasowitz, on the other hand, may have a little more to lose.
Anyone can file a bar complaint against any attorney, including Marc Kasowitz. I suspect someone is already looking into it. cc: @funder

— (((TonyD))) (@Dogger55) June 9, 2017
[Image via screengrab]
This is an opinion piece. The views expressed in this article are those of just the author.
Elura Nanos - Columnist & Trial Analyst, Law & Crime; CEO Lawyer Up