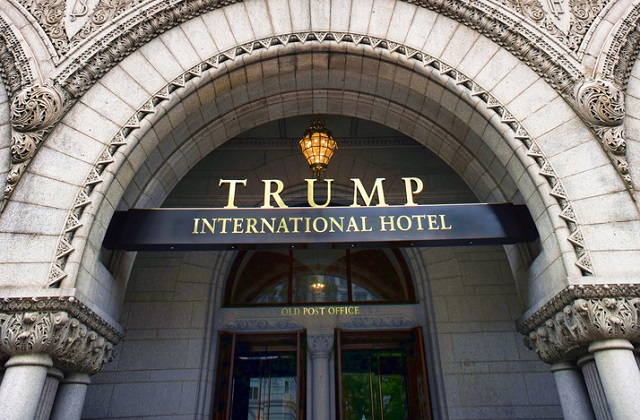 Last week, Attorneys General from Maryland and Washington, D.C. filed a lawsuit against President Donald Trump, targeting his business empire as violating the Constitution. The complaint alleged that Trump's global empire violated the Emoluments Clause of the constitution, saying that money paid by foreign officials to the businesses, including hotels, would be illegal. As it turns out, D.C. Attorney General Karl Racine may have had another reason for bringing the lawsuit: he's an investor in a company with ties to a restaurant that recently sued Trump for unfair competition.
Racine listed on his public financial disclosure statement that he is a limited partner in Cork Market and Tasting Room, a D.C. establishment. Just this past March, sister bar Cork Wine Bar, located down the street from Cork Market and Tasting Room, sued President Trump, claiming that the Trump International Hotel in D.C. was unfair competition. The lawsuit was brought on behalf of the wine bar by owners Diane Gross and Khalid Pitts, who are also owners of Cork Market and Tasting Room, according to American University's WAMU. That lawsuit, which Trump is moving to have dismissed, alleges that the President's business was unfairly taking business away from local establishments because foreign dignitaries were going to the Trump hotel in order to gain the President's favor.
"The president of the United States is taking business away from legitimate businesses. And that's not fair," Cork's attorney, George Washington University law professor Steven Schooner told WAMU.
Isn't that interesting? An attorney general claiming that the President's businesses are illegal just so happens to have a stake in a business whose owners operate a competing business? And that competing business just so happened to have already sued the President for unfair competition, claiming that he's taking customers away. Oh, but surely, you might say, plenty of businesses in D.C. must be suing for the same reason. Nope. Cork is the only one to sue Trump over this issue.
Racine claims that there's nothing wrong with this. Not only that, he's basically acting like this is a coincidence. When confronted with the issue, Racine simply described his stake in the business as "an interesting fact," and pointed out that he doesn't own the Cork Wine Bar that sued Trump, he's only involved with the Cork Market, which he says is a separate legal entity. Of course, even if legally they're separate, they still share a website, so there's certainly an affiliation.
Still, Racine insists that there's no conflict of interest here, and he may be right (legally). He said that he and his office "are not lawyers for the Cork restaurant lawsuit against Trump," so it's not like he's having the government get involved in the private lawsuit. Dean Jessica Tillipman at GW Law School agreed that technically it may not be against any rules, but admitted to WAMU that "it doesn't look great."
"Doesn't look great" is putting it mildly. It totally undermines Racine's Emoluments Clause lawsuit because it indicates that he may have brought a lawsuit as Attorney General with ulterior motives, masking it as a constitutional crisis. Even if he has a legitimate legal claim, it looks a whole lot worse when viewed through the lens of his own private business dealings.
The most ridiculous part of this, of course, is that Racine could have easily avoided this. After all, he's not the only one involved in the Emoluments Clause lawsuit. Maryland Attorney General Brian Frosh is part of the case too, so Racine could have—and should have—said, "You know what, as much as I believe in our cause, I'm going to sit this one out because I have a personal connection to this that wouldn't look good for us."
Instead, Racine pushed forward, trying to do whatever he can to shut down Trump's business. That sure sounds like unfair competition to me.
Note: Instances in an earlier version of this article incorrectly stated that the business in which Racine is an investor was a competitor to President Trump's business and had sued President Trump for unfair competition, when it was a separate establishment that had sued. This has been clarified.
[Image via Shutterstock]
This is an opinion piece. The views expressed in this article are those of just the author.