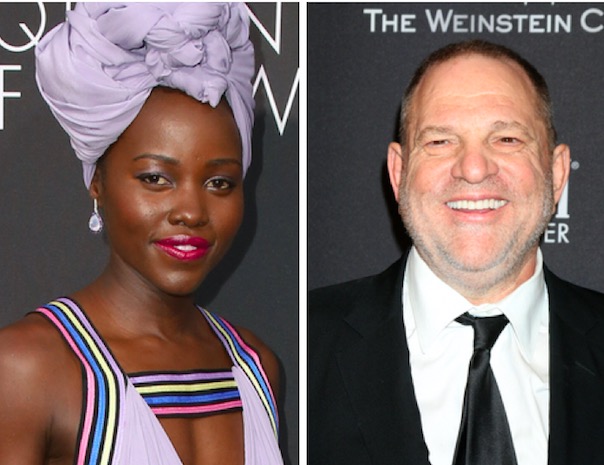 It might be dizzying to keep track of but, according to the latest reports, movie mogul Harvey Weinstein has now been accused of assaulting or harassing more than 50 women including some of the world's most famous actresses. In addition, he is now facing criminal investigations by at least three police departments.
One of the most serious of which emerged this week after an actress told the Los Angeles Police Department that he raped her. After the initial New York Times report, Harvey Weinstein deployed his for-hire feminist mouthpiece attorney Lisa Bloom to go on a tour on his behalf. That was short-lived. Bloom quit just days after the allegations emerged and she realized how many women had serious complaints against him. At the time of the initial report, he also hired powerhouse attorney Charles Harder to go after The New York Times for defamation insisting (without any specifics) that some claims in the article were false — but wouldn't go as far to say the alleged victims were liars. Harder also left the Weinstein team without filing the lawsuit. When women came forward claiming he raped them, his spokesperson sent out another generic statement saying, ""any allegations of nonconsensual sex are unequivocally denied by Mr. Weinstein,"
In fact, throughout this entire ordeal, unlike other high-profile figures like Roger Ailes who have been caught up in similar scandals, Weinstein has remained relatively mum, opting instead to issue broad, generic denials. He has not taken on any of the women and their claims personally. He has also not issued specific denials and called out any of the women. That all changed this weekend when Weinstein's rep issued a statement specifically denying Kenyan-Mexican actress Lupita Nyong's harassment claims.
The "12 Years a Slave" Academy Award winning actress penned an opinion piece that appeared in Thursday's edition of The New York Times. Nyong wrote about an encounter she had with the movie mogul after meeting him in 2011 in Berlin:
Harvey led me into a bedroom — his bedroom — and announced that he wanted to give me a massage. I thought he was joking at first. He was not. For the first time since I met him, I felt unsafe. I panicked a little and thought quickly to offer to give him one instead: It would allow me to be in control physically, to know exactly where his hands were at all times.
In the article, Nyong documented several encounters with Weinstein in which he propositioned her and made her feel uncomfortable. The allegations were not surprising and they certainly were not the most serious leveled against Weinstein. After all, they came after dozens of other women had come forward documenting similarly disturbing experiences they had with Harvey in hotel rooms. What was surprising is that almost immediaitely after the op-ed appeared in The Times, Weinstein deployed his public relations operations to dispel this one claim specifically.
"Mr. Weinstein has a different recollection of the events, but believes Lupita is a brilliant actress and a major force for the industry. Last year, she sent a personal invitation to Mr. Weinstein to see her in her Broadway show 'Eclipsed'."
Why take on this one woman? By doing this, if nothing else, Weinstein is implying to the observing public that the other 50 women are telling the truth, and his one denial has not gone unnoticed.
#Misogynoir because Black woman he must respond w/ complete denial but white women, defense is consent. https://t.co/tGaCcTHX3w via @TheRoot

— Rebecca J. Kavanagh (@DrRJKavanaghEsq) October 22, 2017
Lupita Nyongo's #Weinstein claim is the ONLY one Harvey felt it necessary to issue a public denial about. https://t.co/ZISQkhmWbO

— #IamUrsulaHaverbeck (@AbendlandAnders) October 21, 2017
Not only that, it has raised accusations of racism.
Here's the list of all the reasons Harvey Weinstein chose to speak out against Lupita Nyong'o but not other victims :

1. She's black

— Gord Macey (@GordMacey) October 21, 2017
I find it bizarre that Lupita, the only black actress who has shared her harassment story of HW, he issues a response. But not 2 any others. https://t.co/dqiWegQGFH

— Melissa Silverstein (@melsil) October 21, 2017
It is more than bizarre. Where was the specific denial when Gwyneth Paltrow claimed that at 22, Weinstein placed his hands on her and asked her to go upstairs for a massage? Where was the specifically detail when Italian actress Asia Argento said Weinstein pulled her skirt up and forcibly performed oral sex on her when she was 21? Where was the specific public denial when Ambra Battilana Gutierrez, claimed Weinstein "lunged at her, groping her breasts and attempting to put a hand up her skirt while she protested"?
To these allegations, Weinstein's spokesperson simply said things like "any allegations of non-consensual sex are unequivocally denied by Mr. Weinstein." Or Weinstein just didn't comment all together. Why all the blanket denials, Mr. Weinstein? If you are so innocent, why not take on each and every one of these other women who leveled serious claims against you like you did Ms. Nyongo? From both a public relations and legal perspective, what he did is just puzzling, and leads one to think that you believe the others are telling the truth.
This is an opinion piece. The views expressed in this article are those of just the author.
Rachel Stockman - Editor in Chief / On Air Host