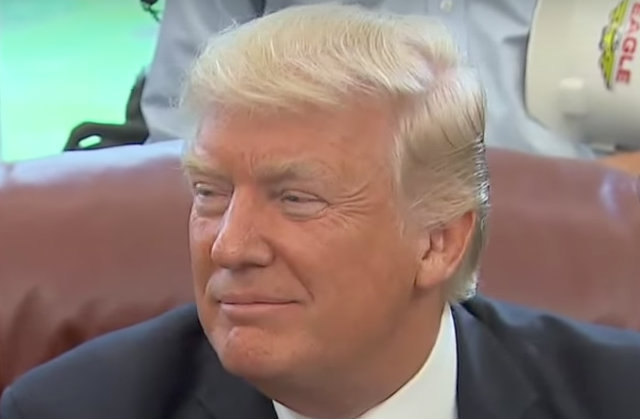 There's one key word in Special Counsel Robert Mueller's indictment of Russian actors who allegedly orchestrated a massive scheme to interfere with the U.S. political system. That word should make President Trump very, very happy.
That word is "unwitting."
On page 17, paragraph 45 of the indictment, it says, "Defendants and their co-conspirators also used false U.S. personas to communicate with unwitting members, volunteers, and supporters of the Trump Campaign…."
According to the Merriam Webster dictionary, "unwitting" is defined as:
Mueller's office didn't have to use the word "unwitting." They could have just said that the Russians used fake identities to communicate with members of the Trump campaign, but they didn't. They specified that any of the members, volunteers, or supporters of the campaign who were in contact with the Russians did so without realizing it.
In other words, as Trump so often likes to declare, "no collusion." (at least as far as we know so far)
Now, this doesn't mean that there wasn't any collusion at all between Trump's campaign and Russia. The indictment deals with private organizations and people who were basically on the ground grunts doing dirty work. The question still remains whether senior Trump campaign officials had contact with senior Russians.
That being said, it's hard to ignore that out of all the indictments and convictions that Mueller's office has secured over the course of their investigation, not a single one has anything to do with the Trump campaign engaging in any illegal activity in conjunction with Russia, which is what the probe was supposed to be for in the first place.
Even the guilty plea of Richard Pinedo, which was announced on Friday around the same time as the Russia indictment, doesn't say anything about Trump. Pindeo admitted to selling bank account numbers to foreign actors, as part of a guilty plea with Mueller's office, but it doesn't say anything about him working with or for the Trump campaign.
While Mueller's team can be proud that it uncovered alleged plots by Russians to stir things up in the United States, there's still nothing that we know of that ties anything to the Trump campaign.
[Image via ABC screengrab]
This is an opinion piece. The views expressed in this article are those of just the author.