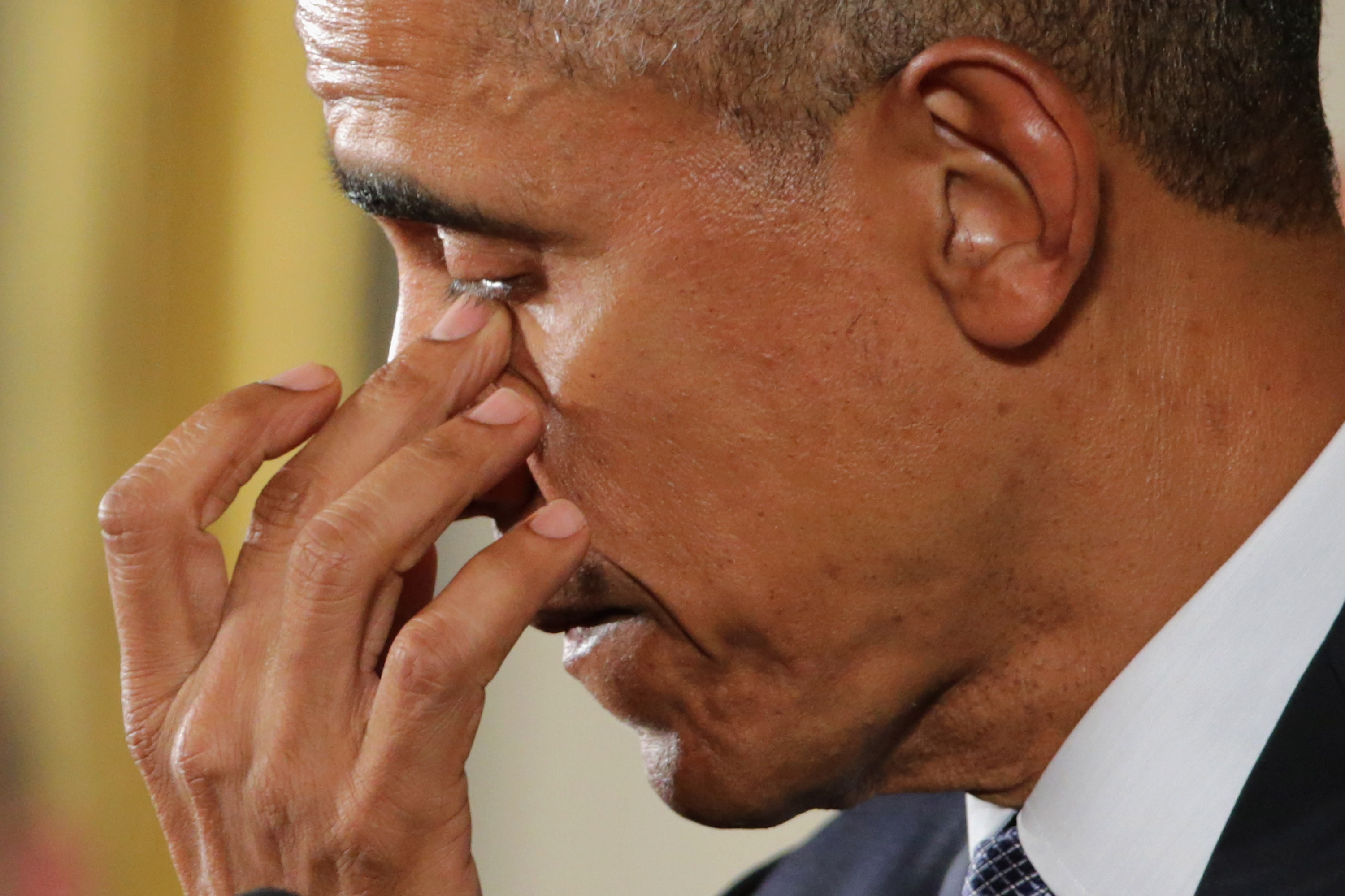 Former President Barack Obama really cares about gun control now. In America and for Americans, of course, but for no one and nowhere else.
Despite harsh, heavily racialized and inaccurate GOP protestations to the contrary, Obama's domestic gun control policies were mostly non-existent and not much worthy of debate or discussion. Obama's voluminous record on arms proliferation and violence abroad, however, puts the lie to his newfound preoccupation with guns in the hands of children.
The 44th president recently waded into the nation's evergreen debate with an anodyne statement the day after America's latest mass shooting in Parkland, Florida. Obama's initial tweet was typically empty-ish and proposed "long overdue, common-sense gun safety laws that most Americans want." Ho, hum, whatever.
In the week after those 17 people were made gone forever at Marjory Stoneman Douglas High School, though, something curious occurred–students fought back loud,  en masse, with sustained fury and created their own power in the streets and through the ether.
Thus, a teen-led movement against every NRA-sponsored-and-supporting politician was born. This movement is still in its infancy and will only grow stronger and louder. Tellingly, this nascent movement has so far resulted in all-but-across-the-board apoplectic reactions from most conservatives.
Two days ago, Obama declared his support for this movement, tweeting, "Young people have helped lead all our great movements. How inspiring to see it again in so many smart, fearless students standing up for their right to be safe; marching and organizing to remake the world as it should be. We've been waiting for you. And we've got your backs."
Obama's support for the teen-led anti-gun movement is unnecessary, cheap and a self-defeatingly cruel joke because Barack Obama, during his two terms in office, littered the world with guns.
Memory Lane calls: Former president George W. Bush wasn't much of a peace-monger. Bush infamously invaded two countries where U.S. troops are still stationed and will probably never leave. Bush also sold an awful lot of weapons. Between 2001 and 2008, $128.6 billion in arms were okayed by Bush and exported by the American arms industry.
Obama—Bush's true heir—doubled that amount with ease.
According to the Stockholm International Peace Research Institute, Obama's provision of arms to the world–including some of the world's most oppressive and violent countries–accounted for a 43% increase on those sold by his predecessor. In total, the Obama administration authorized over $278 billion worth of arms sales—more weapons than any president has let loose into the world since World War II.
Most of those weapons went to the Kingdom of Saudi Arabia–mostly famous in the United States for previously not allowing women to drive and because they chop off gay people's heads. Saudi Arabia is also distinguished as the world's premier sponsor of radical Islamic terrorism.
Knowing all this, the Obama administration still provided Saudi Arabia with more than $115 billion worth of arms deals, according to the U.S. Defense Security Cooperation Agency.
The Saudis are also currently waging a three-year-long war in Yemen which has resulted in unchecked violence, losses of life and an unprecedented humanitarian disaster for upwards of 21 million people.
Obama specifically signed off on the Yemeni war effort and even authorized the U.S. military to re-fuel Saudi fighter jets after they violated international law by attacking a funeral procession in rebel-held territory. In fact, Obama doubled down on his support for the Saudi-led terror campaign in Yemen after that highly-criticized and highly-illegal incident of mass murder.
Let's broaden the focus a bit and look at just one of Saudi Arabia's neighbors: the Syrian Arab Republic.
Far from the popular fiction of U.S. "inaction" in Syria, the Obama administration is also one of the major reasons the civil war in that country is still looking just shy of interminable. Obama's Pentagon provided $500 million worth of support for Islamist Syrian rebels with predictably (and predicted) disastrous results.
Even prior to that half-a-billion-dollar infusion of U.S. public funds into the social cancer-like rot of right-wing U.S. proxies, the CIA had been operating a similarly destructive policy of arming and training ISIS-and-al-Qaeda-like groups in Syria since 2012, according to the New York Times.
Critics might find this a keen opportunity to issue the Obama fan's favorite canard: "Obama didn't personally bring arms to Saudi Arabia and Syria in his briefcase." Arms control deals, the argument goes, are too important and serious for dissidents to understand–and pinning them entirely on one person ignores the complexity. Sure, no one has ever actually suggested that Obama dreamed it all up by himself or even did most of the work necessary to see the deals through.
But this analysis of the Arms Export Control Act ("AECA")–undertaken by Ambassador Tina Kaidanow, the Principal Deputy Assistant Secretary for Political-Military Affairs–and posted on the State Department's website outlines U.S. policy on arms exports. Kaidanow notes:
Pursuant to section 2 of the AECA, "under the direction of the President, the Secretary of State (taking into account other United States activities abroad, such as military assistance, economic assistance, and food for peace program) shall be responsible for the continuous supervision and general direction of sales, leases, financing, cooperative projects, and exports under this Act…

The AECA also authorizes the President, in "furtherance of world peace and the security and foreign policy of the United States" to "control the import and the export of defense articles and defense services."
This is a very clear and concise explanation of the law. Protocol is that first the president go through the secretary of state. But this is mostly perfunctory. Secondarily, the president has the authority to stop arms sales in the interest of: (1) world peace, and (2) U.S. foreign policy. And there's the rub: the former concept simply has no use for the latter.
Quite plainly, hundreds of thousands of innocent people—many of them children—are dead because of Barack Obama's arms sales and foreign policy. Obama allowed the weapons to be sold that killed those children. His administration widened the war in Syria for years.
Obama's youth-boosting now just rings hollow. The context in which he's attempting to elevate student-activists is macabre AF. And, in any event, it's old news.
Barack Obama consistently trotted out his tears for the world in the aftermath of mostly white U.S. children dying–and emptily voiced his support for change–even as his policies produced dozens of scores of thousand of dead mostly brown children abroad.
(And let's not forget the youth-led movements Obama roundly ignored or personally crushed: Occupy Wall Street, Black Lives Matter, Standing Rock–instead of tweets and praise those kids got tear gas and batons.)
By lending his imprimatur to the debate, Obama is adding nothing new–and detracting from the anti-gun movement's high ground and focus. The 44th president's moral authority on arms control and violence is absolutely nil. His support is as unwelcome and unhelpful as it is hypocritical.
The biggest arms dealer in modern history doesn't get an opinion here.
[image via Chip Somodevilla/Getty Images]
Follow Colin Kalmbacher on Twitter: @colinkalmbacher
This is an opinion piece. The views expressed in this article are those of just the author.