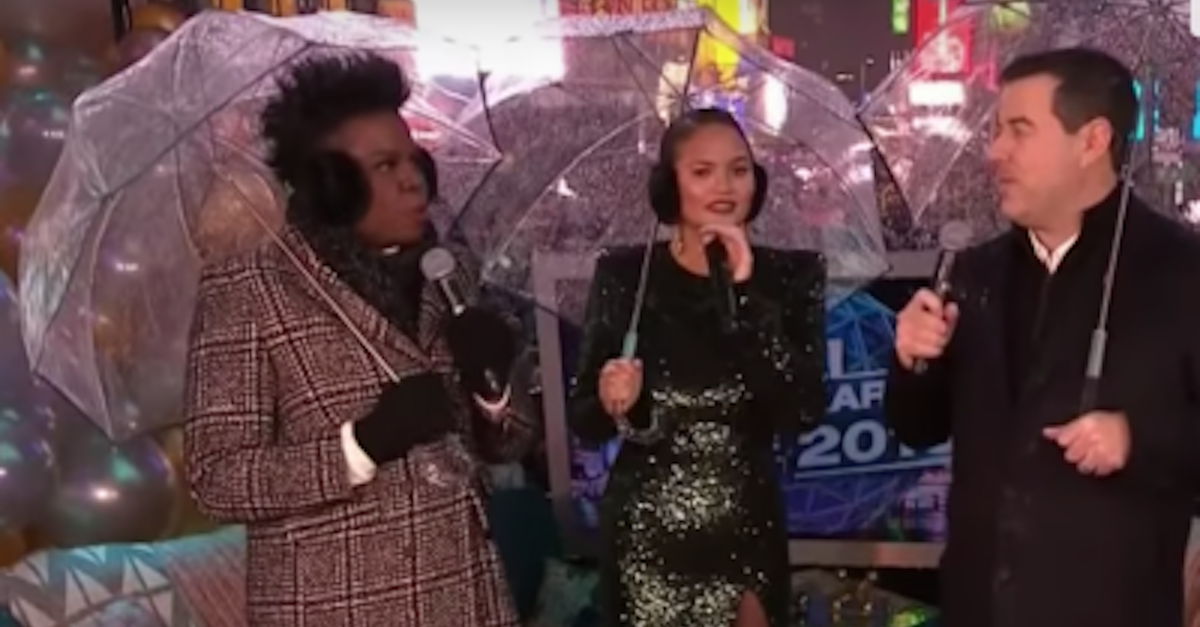 Let's be clear. New Year's Eve coverage has never exactly been a Nova documentary. It's always an excessive and convoluted promofest for the networks, intercut with footage of drunken tourists wearing adult diapers destroying Times Square while the NYPD attempts to look cheerful. This year, though, NBC's coverage evolved past hideous host-banter and wardrobe malfunctions to give us Chrissy Teigen's lessons on vaginal steaming. No, I'm not kidding. The New Year's Eve coverage conspicuously excluded footage of the ball drop and included discussion of this rather unusual health trend.
While the unexpected is routine during live broadcasts, Teigen's uhh… hygiene segment wasn't the result of improv-gone-wrong. It was a planned topic of conversation, complete with still photos of the procedure. Far be it for me to criticize publicity of women's health issues, but NBC had to know it was going to get backlash on this one.
Predictably outraged viewers were quick to accuse NBC of airing material that was inappropriate for children.
NBC's 'Trainwreck' New Year's Eve Sees Chrissy Teigen Nearly Lose An Eye By Leslie Jones Plus 'Vaginal Steaming' And They Forgot To Show The Ball Dropping https://t.co/YzvNNfpXZ1 pic.twitter.com/Q4H6qy5vZh

— BroBible (@BroBible) January 1, 2019
Maybe I'm old but not that old. Watching NBC with my 12 year old 20 min before the ball drops and Chrissy Teigen starts talking about vaginal steaming. Really?! The host of NYE…vaginal steaming? Come on…have a little CLASS. Too many families watching honey. Not cute.

— Holly Grisham (@grisham_holly) January 1, 2019
And some questioned whether NBC should be subject to FCC fines for its broadcast:
Wtf NBC will be the last time my family watches news years on your Network. Try explaining to a 4 year old girl what vagina steaming is, hell I didn't know till crissy Teigen started talking about it. Truly disappointing and disgusting.hope the FCC fines the Network

— kevin b (@kevinbpatsfan) January 1, 2019
What's particularly weird is that on December 31, 2018, NBC was already having kind of a day with the FCC. Earlier that same day, NBC entered into a consent order in which it would pay $495,000 to the FCC for too frequently pre-empting kids' educational programs with sports broadcasts. According to reports, NBC conceded (among other things) that it failed to air sufficient amounts of educational and informational programming, as is currently required by law and FCC rules. As part of the consent decree, the FCC agreed to renew NBC's broadcasting license despite the programming violations, and in a statement, NBC said they "look forward to continuing to provide the educational and informational programming that our young viewers deserve."
Less than twelve hours later, the "information" NBC chose to air included Tiegen's talk.
#nbc #RockinEve I'm embarrassed for America watching @chrissyteigen talk about vaginal steaming. Way to help me ring in the new year with family. Turning it to Fox now.

— Jennifer Hughes (@MrsJennHughes) January 1, 2019
Despite the public outrage over NBC's broadcasting choice, it likely was not illegal. According to the FCC's website:
The Federal Communications Commission (FCC) defines indecent speech as material that, in context, depicts or describes sexual or excretory organs or activities in terms patently offensive as measured by contemporary community standards for the broadcast medium.
The mere mention of a vagina, steamed or otherwise, likely wouldn't meet the standard of having depicted or described a sexual organ in a way that is "patently offensive," but it does skirt some limits. The immediate public outrage over the segment tends to indicate that vaginal steaming probably doesn't meet "contemporary community standards" for what should be aired during a holiday broadcast.
Any viewer wishing to file an official complaint with the FCC against NBC can certainly do so, but I wouldn't bet on a speedy response. According to the FCC, because of the government shutdown, it'll be halting operations not required for "the protection of life and property."  I know we're early in the new year, but a network that got nabbed for not being educational enough choosing to air celebrity vagina-steaming during a family broadcast, all while the FCC shuts down seems very 2019.
[Image via NBC screengrab]
This is an opinion piece. The views expressed in this article are those of just the author.
Elura Nanos - Columnist & Trial Analyst, Law & Crime; CEO Lawyer Up