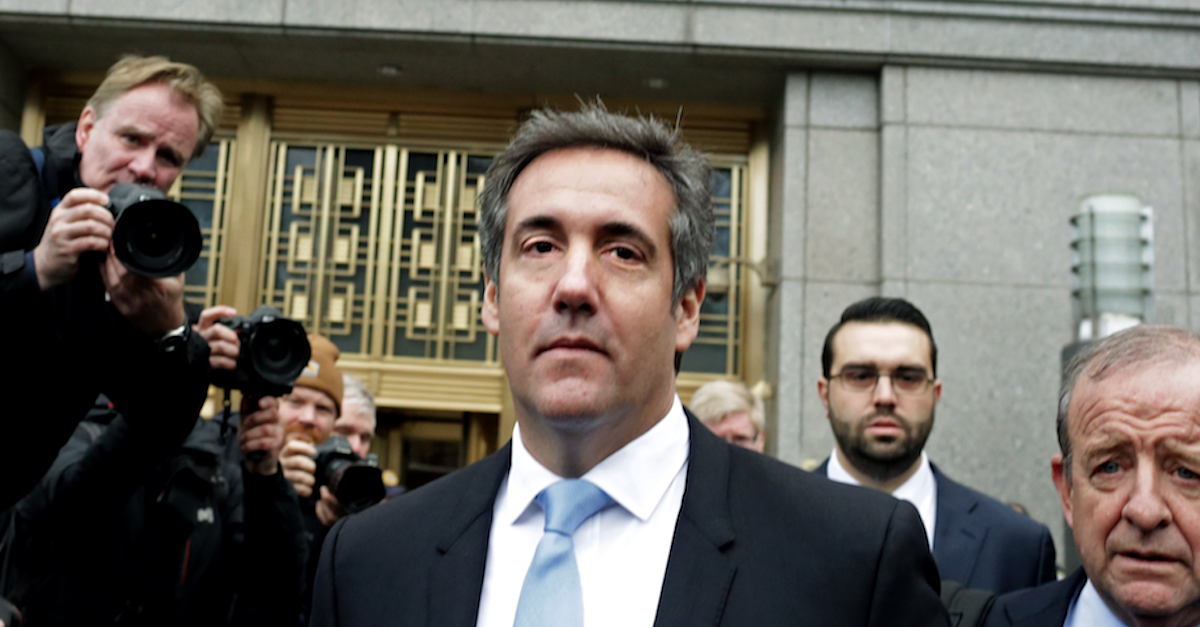 Wednesday night's Rudy Giuliani interview on Hannity sent shockwaves through the political world when the former New York City Mayor and new member of President Donald Trump's legal team dropped a bombshell: Trump did, in fact, reimburse Michael Cohen for the $130,000 that Cohen paid Stormy Daniels as part of her hush agreement.
Both Trump and Cohen have insisted that the president was not aware of the payment at the time, and Giuliani's statement appeared to contradict this completely.
Thursday morning, Trump took to Twitter to explain the situation, saying that Cohen's reimbursement was not in the context of Trump paying him back specifically for the Daniels agreement, but as his monthly retainer that covered expenses.
Mr. Cohen, an attorney, received a monthly retainer, not from the campaign and having nothing to do with the campaign, from which he entered into, through reimbursement, a private contract between two parties, known as a non-disclosure agreement, or NDA. These agreements are…..

— Donald J. Trump (@realDonaldTrump) May 3, 2018
This follows Giuliani's own explanation that he gave after the Hannity interview.
Rudy Giuliani told me that while @realDonaldTrump reimbursed Cohen for the $130k SD payment, POTUS didn't know what the money was used for. Giuliani says Cohen merely told the President he had "expenses" for which POTUS reimbursed him.

— John Roberts (@johnrobertsFox) May 3, 2018
There are, of course, two problems with this story. Cohen has already gone on record saying he was never reimbursed for the payment. Trump and Giuliani have now said the opposite.
The other problem is that if an attorney is handling a matter for a client, they must keep them informed of "material developments in the matter including settlement or plea offers." That would certainly include a hush agreement that involves Trump. Now, Cohen has insisted that he was representing Essential Consultants LLC — the source of the money — in the deal, so he could argue that he didn't need Trump's consent to make the payment, but the new claim that Cohen was paid a retainer seems to indicate otherwise.
The agreement also included an arbitration clause that specifically and exclusively dealt with any potential dispute between Daniels and Trump. If Cohen negotiated such a deal on Trump's behalf without telling him, he could get in trouble. If he did inform Trump, that would mean he knew about the money and where it was going.
With so many contradictions, it's hard to know what to believe anymore. First Cohen claimed he didn't represent Trump in the matter, then Trump pretty much said the opposite. Cohen insisted he was never reimbursed for paying Daniels, and now Trump and Giuliani are saying the opposite.
If Trump is found to have known about the payment at the time, he could find himself in trouble for failing to report it in his federal financial disclosure for his campaign. The criminal investigation into Michael Cohen is said to involve possible campaign finance violations related to the Daniels payment. Trump and Giuliani are currently claiming that the way the payment was made and reimbursed did not break the rules.
[Image via Yana Paskova/Getty Images]
This is an opinion piece. The views expressed in this article are those of just the author.