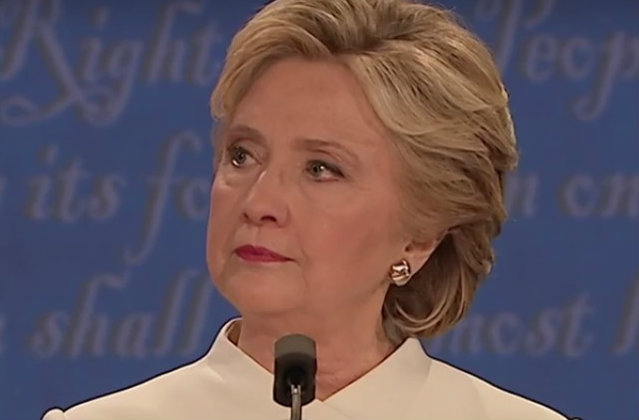 A New York Times report on Friday describes how a former member of Hillary Clinton's 2008 campaign staff was known to sexually harass a female staffer, but was allowed to stay on board, despite calls for him to be let go. While the allegations against Burns Strider are certainly serious, perhaps more troubling is the reason why the woman involved can't talk about it. The woman, who is not identified in the report by name, was and continues to be bound by a broad nondisclosure agreement, according to the Times. The only reason why the story is out now, is because some of her coworkers were willing to speak out under the condition of anonymity. She herself has never spoken about it publicly.
In the age of #MeToo, it's troubling to think that a female victim of sexual harassment would be prevented from speaking out due to her boss, who was trying to become the first female president.
Yet here we are.
Granted, the events in the report were said to have occurred roughly a decade ago. Since then, sexual harassment and assault in professional settings have been exposed in pretty much every industry in the public eye. We've also seen reports of other NDAs meant to keep women from speaking publicly about their experiences. Of course, many of them were part of settlement agreements where women were paid large sums of money. In this case, it was an agreement for all staff members to prevent them from saying anything regarding the campaign's inner-workings.
Now, it makes sense for campaign staff members to sign limited NDAs to prevent them from spilling strategies during the course of the campaign itself. It's something entirely different to bar people from saying anything about the campaign, even long after it ended. Donald Trump caught some flak in 2016 for making staffers and volunteers sign NDAs meant to run in perpetuity. Turns out, Clinton had pretty much done the same thing in the past.
Clinton has a chance to make this right. There's recent precedent for letting a victim of sexual misconduct out of an NDA. McKayla Maroney, one of the many gymnasts who were sexually abused by former USA Gymnastics doctor Larry Nassar, was bound by an NDA that could have prohibited her from providing a victim impact statement during Nassar's recent sentencing hearing. In the end, USA Gymnastics announced that they would not enforce the NDA if Maroney wanted to give a statement, and she ended up writing one that was read in court.
This isn't the first time that an alleged victim of sexual misconduct has been on opposing side of Clinton. Hillary spoke strongly against women who accused her husband, President Bill Clinton of sexual harassment and assault. She was severely criticized when she said during her recent campaign that accusers should be believed, when she pretty much said the opposite in the 1990s.
With the latest news, Clinton has a chance to stand with victims by supporting her own former employee and allowing her to speak. Even if the woman doesn't want to come forward, that should be her choice, not something imposed on her by those in power.
[Image via NBC screengrab]
This is an opinion piece. The views expressed in this article are those of just the author.