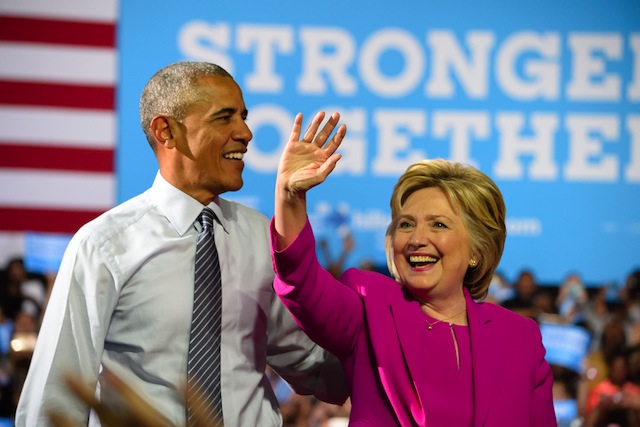 Looks like there's no pardon for Hillary Clinton after all. Despite partisan speculation that President Barack Obama would pardon Clinton leaving office, he did not include her in his historic pardoning or commutation of over 1,000 individuals days before leaving the White House.
For months leading up to President Donald Trump's inauguration on January 20th, conservative commentators, websites and political pundits warned that Obama would pardon Hillary. Two of the most vocal people on this front were former Clinton advisor Dick Morris and former Minnesota Congresswoman Michele Bachmann.
For instance, while appearing on the Trending Today USA radio show, Bachmann stated, "I would not be surprised to see Barack Obama issue a blank pardon for anything Hillary Clinton, Bill Clinton, Chelsea Clinton or the Clinton Foundation has done."
Dick Morris also consistently held that he believed Obama would pardon Clinton before leaving office.
Obama Paves The Way For Hillary Pardon! Dick Morris TV: Lunch ALERT! https://t.co/QIEBeC8waT via @YouTube

— Inauguration Day! (@Sheri_Hischild) January 20, 2017
There was, of course, no evidence that Obama was leaning towards a pardon of Clinton. In fact, during an interview with German publication Der Spiegel back in November, Obama said "I can't pardon somebody who hasn't gone before court and presented themselves, so that's not something that I would comment on at this point." In that interview, he was specifically asked about Edward Snowden, but, presumably, Obama's thoughts applied to a potential Clinton pardon as well.
Obama has steadfastly held that he would follow a fair and fixed process for reviewing requests for pardons and commutations. Furthermore, the former president openly discussed his aversion to approve any politically-charged pardons, especially on the eve of his exit.
But all that did not stop Obama's critics from continuing to proclaim their belief that Obama would ultimately pardon Clinton.
"This president has shown a penchant for doing petulant, ideological things in last days of his administration, and letting out some real bad guys — heroes on the left — would be certainly in his wheel house," stated Tom Fitton, president of Judicial Watch, a conservative legal watchdog group.
These conservative groups and websites such as Breitbart, the National Review, and the Conservative Review, worked up a partisan fervor based on a made-up theory surrounding the Clinton pardon, and in the end, they just plain got it wrong.
Although Trump has loosened his campaign stance on prosecuting Clinton, she is still not necessarily out of the water yet, as the Department of Justice could theoretically seek to prosecute after conducting its own investigation into her time as Secretary of State. Either way, Obama didn't come to her rescue.
You can listen to a portion of Bachmann's interview here:
Listen to "Michele Bachmann On Chelsea Manning's Commutation" on Spreaker.
Editor's Note: This article has been updated to provide more information about those who believed Clinton would be pardoned.
[image via shutterstock]
This is an opinion piece. The views expressed in this article are those of just the author.