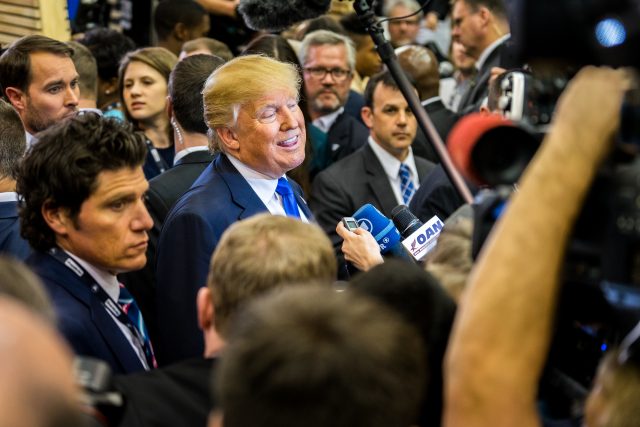 The Trump transition team launched its first legal attack on the mainstream media this week, just days before the inauguration of President Donald Trump. And botched it.
The move signals that President Trump will likely continue his 30-year history as a libel bully who sends empty threats to journalists and sometimes sues them, only to lose his libel cases in court.
The Trump transition team and a law firm launched the attack by issuing a public retraction demand to CNN over its supposedly "false" report about Sen. Tom Price's (R-Ga.) controversial stock purchases, a first step toward filing a defamation lawsuit.
But the retraction demand ended up confirming the key facts in the CNN report. And the law firm — the global firm Dentons — quickly withdrew its letter after realizing that CNN is a client and threatening its own client presented a conflict.
In another signal that Trump will continue his bullying ways, it was revealed this week that Michael Cohen, Trump's aggressive personal lawyer, will continue to work for Trump in a private capacity.
Cohen is known for threatening a Daily Beast reporter in 2015 by saying, "I'm warning you, tread very fucking lightly, because what I'm going to do to you is going to be fucking disgusting.  You understand me?"
A look at Trump's past libel lawsuits and other suits against the media provides a preview of what is to come with President Trump and his administration. Trump and his companies have filed seven libel lawsuits against journalists and critics over the past 30 years – without winning a single one filed in a public court.
Start with Trump's orangutan birther lawsuit against HBO talk show host and political humorist Bill Maher over a joke.
After Trump pledged to pay $5 million to charity if President Barack Obama provided his birth certificate to prove he was not born in Kenya, Maher fired back by promising he would donate $5 million to charity if Trump sent in his birth certificate to prove that he was not, as Maher joked, the "spawn of his mother having sex with an orangutan."
As Maher explained, it was the only thing that would explain "the color of his hair."
Trump didn't get the joke. His lawyer mailed Trump's birth certificate to Maher to demonstrate that Trump was the son of Fred Trump, you know, a human, and demanded Maher donate $5 million to charity as promised.
When Maher ignored the demand, Trump filed a $5-million breach-of-contract lawsuit against Maher in 2013.
Trump's suit was roundly ridiculed by the Hollywood Reporter, and Trump quickly dropped his lawsuit.
Trump did not learn his lesson and filed another lawsuit over a joke in 2015 – when he was running for president. This time, Trump filed a $1-billion claim which involved an Instagram post that paired a photo of Trump with a photo of then-defendant Dylann Roof, charged with a racially motivated mass shooting at a black church.  Trump claimed that the post falsely implied that he was a racist and murderer.
Trump sued Albert Ciurana, then-programing chief for Univision Networks & Studios Inc. and a native of Mexico who posted the two photos on his Instagram account shortly after Trump made his infamous campaign-launching speech about Mexican "rapists" and criminals.
The case quickly settled under confidential terms. But it's safe to say that since the Instagram post is protected by the First Amendment as an angry joke that expressed a political opinion and hyperbole, Trump's defamation claim was an unlikely winner in court.
In another lawsuit unleashed during his presidential campaign, Trump sued two labor unions for picketing Trump in Las Vegas over a labor contract in 2015.
Trump's Las Vegas hotel sued the unions for false advertising under federal trademark law. But a federal judge schooled Trump that a union picket line is hardly a type of commercial advertising trying to sell something like perfume or a handbag, and dismissed the lawsuit.
Another Trump target was a former yoga teacher who called Trump's for-profit real estate school, Trump University, "fraudulent" and "deceptive." Trump U retaliated with a $1-million libel lawsuit in 2010 against Tarla Makaeff, the former yoga instructor who happened to be the lead plaintiff in a class action lawsuit against Trump and Trump U.
Once again, a federal judge dismissed the libel lawsuit, ruling that Trump U was a public figure who lacked evidence that Makaeff's statements were made with knowing falsity, otherwise known as actual malice.
Trump also got hot under the collar when book author Timothy O'Brien's 2005 book, TrumpNation, The Art of Being The Donald, reported that Trump was "only" worth $150 million to $250 million, not the billions Trump claimed.
Trump sued in 2006 for libel – seeking $5-billion in damages – and lost. Once again, Trump was found to be a public figure and could not prove that O'Brien published with knowing falsity.
Trump had another problem in with this TrumpNation lawsuit: he had no experts who could nail down his net worth with certainty and admitted in his deposition that his valuation of his "net worth goes up and down based on [his] own feelings."
Trump's first libel lawsuit was filed in 1984, when he sued the Chicago Tribune and its prize-winning architecture critic, Paul Gapp, for calling Trump's planned 150-story Manhattan skyscraper "one of the silliest things" and "aesthetically lousy."
A federal judge in New York dismissed Trump's lawsuit. The judge instructed Trump that the First Amendment protects expressions of opinion on aesthetics. Why? Because it's impossible to prove that beauty or ugliness is a true or false "fact."
Trump and his lawyers like to brag about winning a $5-million libel judgment against former Miss Pennsylvania Sheena Monnin for expressing her opinion that the Miss USA pageant was "rigged."
But this is not a true court victory because the case was not a court lawsuit, but a private arbitration where Monnin got horrible advice from her lawyer, who told her not to attend the arbitration. This allowed Trump's Miss Universe pageant company to win by default in a secret arbitration by a rent-a-judge, who is not required to follow the law or evidentiary rules.
What's next?
Consider that Trump boasted to the Washington Post in 2016 about losing his TrumpNation libel lawsuit ten years earlier:  he didn't mind losing because "I did it to make [the author's] life miserable, which I'm happy about."
As Maher recently put it, "No one knows what this man is capable of.  I never, ever, ever felt worried – it never crossed my mind – that George Bush would do something crazy, even though I knew he hated me.  He never sued me for a joke."
[image via Shutterstock]
This is an opinion piece. The views expressed in this article are those of just the author.